Most Americans confused by Obamacare even on the last day of enrollment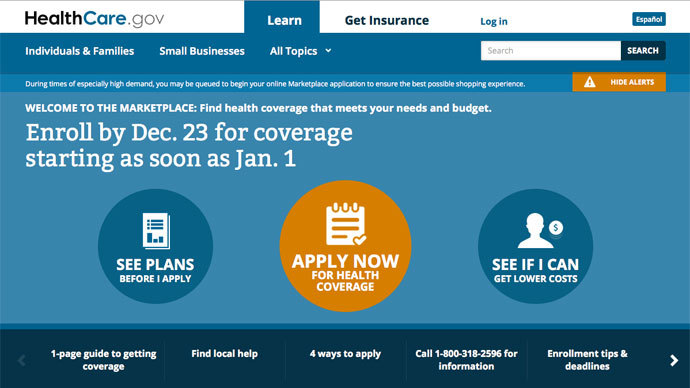 Americans looking to secure health insurance coverage that kicks in on January 1 must be enrolled in the program by December 24, a deadline that's been extended by the White House for another day.
The White House hasn't made the announcement publicly, but sources cited by the Washington Post stated that anyone who purchases coverage by midnight on December 24 will be covered at the start of 2014. This marks the second time the Obama administration has extended its deadline.

For many Americans, the confusion stemming from the Affordable Care Act's troubled rollout has introduced significant uncertainty as the Obama administration continues to revise, extend, and, in some cases, exempt individuals from the deadline's
Meanwhile, Reuters reported on Monday that Americans struggling to sign up through the HealthCare.gov website could also be exempt from the mandate if they've made "a good faith effort" to enroll. Exactly how the government determines what constitutes a good faith effort, however, is unclear.
Already, a malfunctioning website forced the White House to extend its end-of-the-year deadline, which was originally December 15. Insurance companies have also been advised to be lenient with those struggling to activate their plans by the start of 2014.
All this uncertainty has raised the ire of ACA critics who believe the administration has simply confused the majority of Americans when it comes to their health coverage.
"With no clarity as to when people should sign up and who they should pay and when, it's a virtual certainty that many consumers will find themselves uncovered for a period of time through no fault of their own," said Senator Orrin Hatch (R-Utah), according to Reuters.
A new survey by the Health Affairs journal seems to back up Hatch's claim. According to the poll, about 60 percent of Americans who should be enrolling in plans through the law do not understand its key components. Another survey by Carnegie Mellon University concluded with even more dire results, showing 86 percent of Americans between 25 and 64 did not understand the core concepts behind any health insurance.
As Good Morning America noted in its report on Monday, insurance companies are also being flooded with confused customers.
"Our hot line reports that on pretty much every call, customers ask our agents the most basic questions about insurance," Chini Krishnan, co-founder and president of GetInsured, a government-approved online insurance marketplace tasked with guiding people through the enrollment process, said to GMA. "Then add in premium tax credits and cost-sharing reductions -- it's a lot for them to process."
For his part, President Barack Obama announced on Friday that one million Americans have enrolled in the ACA. Enrollment is on the uptick since the malfunctioning website led to signups well below the administration's initial expectations. According to Reuters, government officials are sending notices through email, the telephone, and snail mail to ensure people remember to register.
"We are confident that we are doing everything we can so that individuals know what their options are to get coverage, whether it is at the marketplace or seeking it through the private insurers," an unnamed official told Reuters.
You can share this story on social media: