Pentagon creates 13 offensive cyber teams for worldwide attacks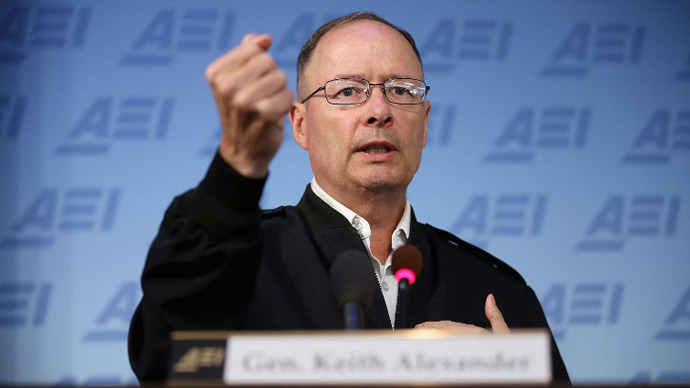 The head of the United States Cyber Command says the US is developing 40 new teams of cyber-agents that will both protect America's critical infrastructure from hackers and as well as launch attacks against the country's adversaries.
Gen. Keith Alexander, who leads both the Cyber Command and the National Security Agency, told the US Senate Armed Services Committee on Tuesday that the 40 online support teams should be ready for action by 2015, with 13 of those units existing specifically to attack other countries.
Alexander has been reluctant to go into detail about how the newly-designed teams will engage in cyber battle with America's enemies, but he did say that the 13 squads of offensive fighters won't be sitting around waiting for hackers from abroad to strike first. The NSA chief described the groups as ''defend-the-nation'' teams but also stressed that their role will be one that puts them on both sides of the action.
"I would like to be clear that this team. . . is an offensive team," he told reporters on Tuesday.
"The teams are analogous to battalions in the Army and Marine Corps — or squadrons in the Navy and Air Force," said Alexander. "In short, they will soon be capable of operating on their own, with a range of operational and intelligence skill sets, as well as a mix of military and civilian personnel."
Chris Strohm, a national security reporter for Bloomberg, says the units will "focus on missions such as protecting vital computer networks from attacks, supporting combat operations and keeping the Pentagon's information-technology systems secure."
The Associated Press reports that Gen. Alexander likened the teams' duties to "knocking an incoming missile out of the sky before it hits a target," and that they'd serve as defensive teams with added offensive capabilities. What offensive actions the teams will engage in exactly will likely remain unknown for now, however, as the US has continues to closely guard its secretive cyber operations. An order signed by President Barack Obama last year outlining the offensive capabilities of US cyber squads remains classified four months later, but it has been described as being the most aggressive cybersecurity directive ever. Meanwhile, the commander-in-chief and other administration officials have only said that attacks aimed at US infrastructure are increasing in frequency.
"What is absolutely true is that we have seen a steady ramping up of cyber security threats," Pres. Obama told ABC News during an interview filmed on Tuesday.
And while Gen. Alexander's 40 new teams won't be ready for either side of a cyberbattle until 2015, meanwhile Washington is looking for other ways to protect an onslaught of attacks. In addition to the classified order signed by Mr. Obama in November — Presidential Policy Directive 20 — the White House has also released an executive order that will pave the way for the country's private businesses to share threat information with the US government.
"I signed a new executive order that will strengthen our cyber defenses by increasing information sharing, and developing standards to protect our national security, our jobs and our privacy," Pres. Obama said during last month's State of the Union address. Moments later during his speech, he also urged Congress to act fast on their own "by passing legislation to give our government a greater capacity to secure our networks and deter attacks." One day later members of Congress reintroduced the Cyber Intelligence Sharing and Protection Act, or CISPA, and again this week Pres. Obama asked for lawmakers on Capitol Hill to act on it.
"There are ways that we can harden our critical infrastructure, our financial sector," Obama to ABC. "They need to get this done."
Gen. Alexander and Pres. Obama's statements come on the heels of a series of cyberattacks aimed at America's military computers, government servers, utility companies and banks. Iran has been largely considered responsible for a series of recent attacks on US banking websites, and China has repeatedly been linked to both cyber-espionage and cyberattacks on the US Department of Defense, Department of State and the private sector. Earlier this week, hackers claiming to be from the Tunisian Cyber Army took credit for hacking a handful of government websites, and say that, along with the al-Qaeda Electronic Army and a crew of Chinese hackers, will continue to attack US websites as part of Operation BlackSummer, or #OpBlackSummer.
You can share this story on social media: