Alabama hostage crisis ends - child safe, kidnapper dead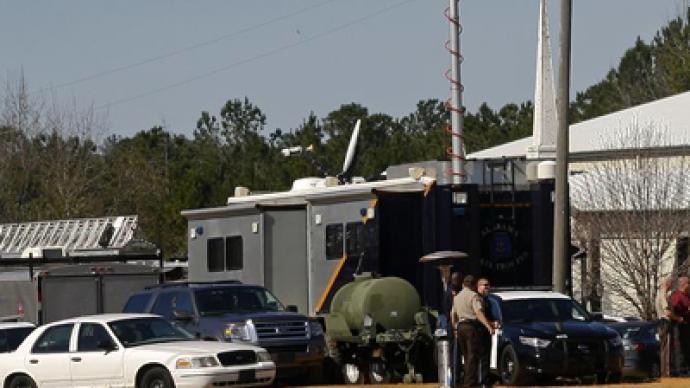 After a seven-day standoff, the hostage situation in Midland City, Alabama has ended. The captor was killed in a gunfight with law enforcement, while the 5-year old victim has been released physically unharmed.
The FBI adds the kidnapper had "reinforced the bunker" and that two explosives were found on site. Jimmy Lee Dykes, a 65-year-old retired truck driver, had kidnapped the five-year-old boy referred to only as 'Ethan' from a school bus on January 29, shooting the bus driver to death in the process. He then held the boy in an underground bunker in his yard for the next six days.Special Agent Steve Richardson of the FBI told the press that law enforcement had "safely recovered the child" after "negotiations deteriorated." Richardson said officers "entered the bunker and rescued the child" after Dykes was seen to be holding a gun. "The subject is deceased," Richardson said, referring to Dykes."Mr. Dykes was observed holding a gun," Agent Richardson said. "At this point, the FBI agents, fearing the child was in imminent danger, entered the bunker and rescued the child.""Right now, FBI special agent bomb technicians are in the process of clearing the property for improvised explosive devices," reads a statement from the FBI. "When it is safe to do so, our evidence response teams, paired with state and local crime scene technicians, will process the scene."Alabama law enforcement managed to install a camera in the bunker to monitor Dykes, an official told ABC News. They stormed the bunker when they began to fear that he was going to make a dangerous move.During the crisis authorities delivered items including medicine, toys, and food for Ethan, who is said to suffer from a mild form of autism. He was physically unharmed by the ordeal, but has been taken to hospital as a precaution.The FBI has not discussed a motive for the kidnapping, neighbors described Dykes as a loner with no children of his own. The 65-year-old was estranged from his family, according to Mel Adams, a Midland City Council member who had known Dykes from childhood, as quoted by AP. The kidnapper's neighbors told AP that Dykes had once beaten a dog to death with a lead pipe, threatened to shoot children for stepping onto his property, and guarded his home at night with a gun and a flashlight.
You can share this story on social media: