Air Force officer's sex assault sentence thrown out by commander despite jury's decision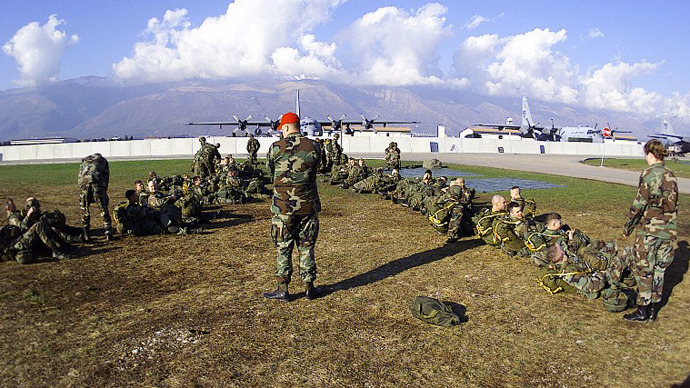 Congress is preparing to introduce legislation that would prohibit a military commander from overturning a military conviction, after a lieutenant colonel's sexual assault conviction was dismissed last month.
Lt. Col. James Wilkerson, a pilot who was also the inspector general of the 31stFighter Wing at Aviano Air Base in Italy, was found guilty of aggravated sexual assault and sentenced to one year in military prison in November. His charges included "abusive sexual contact, aggravated sexual assault and three instances of conduct unbecoming of an officer and a gentleman," the Air Force Times reported.
But last month, Lt. Gen. Craig A. Franklin, commander of the Third Air Force base, dismissed the sexual assault conviction – even though there was plenty of evidence of the defendant's guilt. On Feb. 26, the case was dismissed and Franklin even recommended Wilkerson for a promotion, the New York Times reported.
The Uniform Code of Military Justice (UCMJ) allows commanders to overturn military convictions – a law that has been a source of outrage, especially among victims of sexual assault. The victim in the Wilkerson case, a civilian physician's assistant, was so upset when she heard about the dismissal that she reached out to an advocacy group.
"She was devastated," Nancy Parrish, president of Protect Our Defenders, told the Huffington Post. "Franklin hadn't bothered to speak with her as a part of his decision and he hasn't reached out to her since… Just when she felt like she was getting her life back, this happened."
In response the overturn of the conviction, which has sparked anger even among lawmakers, a group of senators are preparing to announce legislation that would amend the code.
"What this case has done is it has opened a window into what I think are some very weird provisions of the UCMJ, and they are the kind of provisions that are offensive to most Americans," Sen. Claire McCaskill, who will announce the legislation, told The Huffington Post. "The notion that this convening authority can overturn a jury decision for any or no reason at all."
Angered by the case that allowed Wilkerson to get away with sexual assault, senators of the Armed Services Committee have organized the Senate's first hearing on military sexual assault in nearly 10 years, where military officials will face tough questioning about the case.
Amid widespread criticism from senators about Franklin's decision to overturn the sexual assault conviction, Defense Secretary Chuck Hagel this week announced that he would review the UCMJ provisions – but that he lacks the authority to overrule the Air Force general's decision.
"Under the [UCMJ], the convening authority's action is a final decision," Hagel wrote in response to a letter from Sens. Barbara Boxer (D-Calif.) and Jeanne Shaheen (D-N.H). "The decision of the convening authority cannot be changed."
But although Hagel said the decision cannot be reversed, he admitted that it would be worth examining the law that permitted it in the first place.
"I believe this case does raise a significant question whether it is necessary or appropriate to place the convening authority in the position of having the responsibility to review the findings and sentence of a court-martial," Hagel wrote.
With Wednesday's hearing about sexual assaults in the military, the Senate Armed Services subcommittee will bring further review to a case that has already garnered national attention and prompted lawmakers to take action.
The issue sheds light not only on the UCMJ provision, but also on the US military culture that makes sexual assault cases so recurrent. There were 3,191 reported cases of sexual assault in the military in 2011, but according to Secretary of Defense Leon E. Panetta, the actual number could be as high as 19,000. Documents connected to the Wilkerson case describe testimonies by women who say that the culture among Air Force fighter pilots encourages misogynistic behavior. And with the ability for lieutenant colonels to dismiss any and all charges, military personnel are able to get away with their crimes.
"For women who have been sexually assaulted, it means that their bosses decide whether charges are brought against their assailants, and that information about their assaults is shared in their workplaces," writes James Risen for the New York Times.
And for the victim in the Wilkerson case, going back to work after being assaulted by one of the military's top leaders is intimidating and disheartening.
"The defense did everything they could to drag my name and character through the mud. I still went to work and did my job," she wrote in a statement for the Senate hearing. "What really scares me is that (the perpetrator) will remain in a position of military leadership. Really? Leadership?"
You can share this story on social media: