Air Force cover-up? Family of deceased pilot cries foul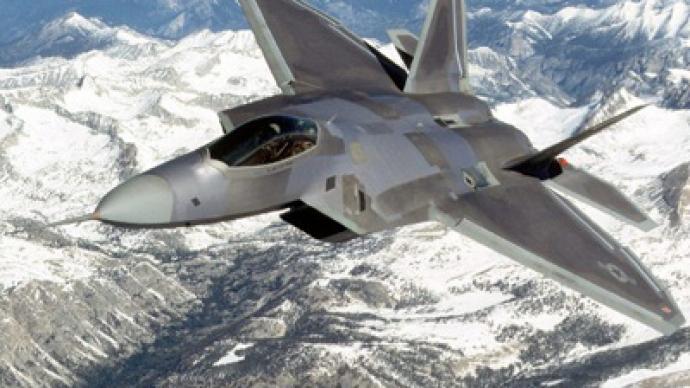 The US Defense Department says they have "clear and convincing evidence" that pilot Jeff Haney caused the crash of a stealth F-22 Raptor jet in 2010 that ended his life. His family, however, suggests that the Pentagon isn't providing the truth.
Captain Haney was killed a year and a half ago while onboard one of the US Air Force's $420 million F-22 fighter jets in Alaska. Haney was participating in a training flight when a malfunction resulted in his oxygen supply to be cut off. Unable to breathe, the pilot became unable to operate the half-a-billion dollar plane and was killed on impact upon striking a mountain.Despite the tragedy, the Air Force has continued missions with their $77.4 billion fleet of Raptors, and has done little to address the incident that ended Captain Haney's life. After they were forced to ground their bevy of planes hosted at the same Alaska air base only two months ago for similar problems with the oxygen system, investigators have still been unable to figure out why pilots are experiencing issues while onboard the craft."We have looked at everything on that system [to] the nth degree, and the bottom line is that there's no smoking gun," Lt. Gen. Herbert Carlisle, a high-ranking Pentagon official, explains to the Air Force Times.In the last nine months the Air Force has been made aware of at least nine separate incidents where pilots just like Captain Haney have complained of symptoms similar to those linked with hypoxia, a condition where the brain is deprived of oxygen. Earlier this week RT reported that an undisclosed number of pilots have refused to board the craft until the Air Force works out all of the kinks, prompting a high-ranking military member, General Mike Hostage, to vow that he will personally fly the airplane to investigate the problem.After episode after episode, however, incidents are still amounting and now the late pilot's family is speaking out against the military's reluctance to remediate the issue as it continues to risk the lives of countless others.In an interview with ABC News, the pilot's sister, Jennifer Haney, says she feels like the Pentagon has pushed aside publically discussing the history of the doomed Raptor fleet in order to save both face and funding. "I'd like to think it's easier to blame Jeff. He's not here to defend himself," his sister says. "To them, Jeff was a number, it feels like sometimes. But those jets are worth a lot of money."Months after the fatal crash that killed Captain Haney, the Air Force temporarily suspended its Raptor operations to investigate a handful of related claims — and have done so several times since. Although the Pentagon says today that they can't put their finger on the cause of the crash and the other reports of oxygen system malfunctions, Jennifer Haney says she is skeptical of the Air Force's story."I think there was a lot more going on inside that cockpit," she tells ABC. "A cover-up? I don't know. But there's something."There have been more than two dozen reports of pilots suffering "hypoxia-like symptoms" on board the F22s. Responding to continuously escalating criticism, the Air Force recently went on the record to stand by their program."The F-22 and the crews who fly and maintain it provide world class air superiority against today's and tomorrow's threats. While the F-22 program has encountered challenges, the Air Force remains committed not only to their resolution but also to unparalleled dedication to flight safety," reads a statement from the branch.
You can share this story on social media: