Pro-gun activist Kokesh re-arrested in Washington DC after being released from Virginia jail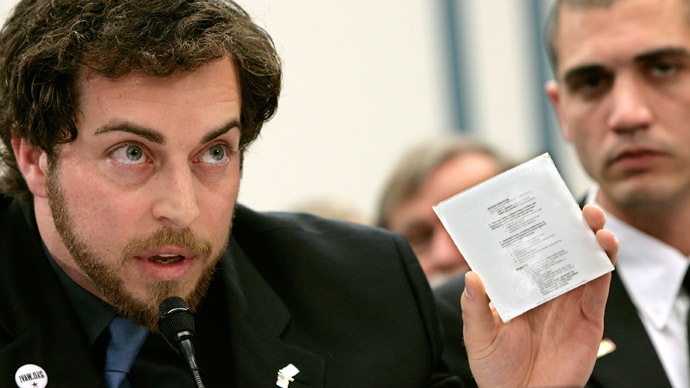 A judge at the DC Superior Court has ordered gun rights activist Adam Kokesh to be held without bond until his next court appearance, calling him "a very dangerous man."
Kokesh was rearrested in the District after he was freed on bond last week in Virginia. During a preliminary hearing on Monday, the DC judge decided to hold the activist without bond, calling him a dangerous man and a flight risk. Kokesh is expected back in the court on Aug. 13 to stand trial on gun charges.
The 31-year-old former Marine from Herndon, Va., was charged with one count of openly carrying a weapon in violation of the District of Columbia's firearms law. According to court documents, Kokesh went to Freedom Plaza on July 4 and loaded four rounds of ammunition into a shotgun. He then posted a YouTube video in which he taunts the District's strict gun laws, while holding his shotgun in downtown DC, just blocks away from the White House.
"We will not be silent. We will not obey. We will not allow our government to destroy our humanity," he says in the video. "We are the final American revolution. See you next Independence Day."
Kokesh hoped that hundreds of thousands of Americans would march from Virginia into DC, carrying firearms in defiance of the city's ban on loaded guns. The march was cancelled, but Kokesh still appeared in DC with his shotgun, posting a video with a synopsis that reads, "Can you count the felonies committed in this video? No, you can't possibly count them all."
In the nation's capital, carrying a gun outside of a home or place of business carries a maximum penalty of five years in prison and a fine of $5,000. But Kokesh is also facing a number of other charges: after US Park Police obtained a warrant to search the Virginia man's home, they found hallucinogenic mushrooms in the raid. Kokesh was charged with possession of a Schedule I or Schedule II drug on July 9. Police also confiscated 10 guns that they found in the raid, including a Maverick Arms 12-gauge pump action shotgun that resembles the weapon shown in the YouTube clip.
Kokesh was initially arrested on drug charges and held in a Fairfax jail until late last week, after supporters raised the $5,000 they needed to post bond. But the gun rights activists was quickly rearrested by the District, where he will stand trial for violating the city's firearms law.
On Monday, Defense Attorney Peter Cooper said that US Park Police could not prove that the YouTube video was real or that the ammunition raided from Kokesh's home was the same that was used to load the gun in the video. Cooper told the court that the stunt was nothing more than "political theater". He also noted that his client lived with eight roommates and there was no evidence proving that the recovered firearms belonged to Kokesh.
But DC Judge Frederick Sullivan refused to grant Kokesh bond, arguing that he posed a flight risk and ordering him to be held until the trial begins.
"I consider your client to be a very dangerous man," the judge said. "This is not a political statement."
Kokesh, who was wearing an orange jumpsuit as he sat beside his attorney during the preliminary hearing, will spend the next two weeks in his jail cell in anticipation of his Aug. 13 trial date.
You can share this story on social media: