Democrat Texas representative defects to Republicans over defunding of police, border crisis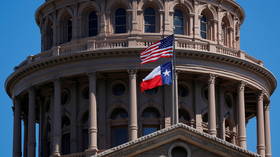 Texas state Representative Ryan Guillen announced his defection from the Democratic Party to the Republicans this week, citing his opposition to Democrat policies on the southern border and defunding the police.
Guillen revealed on Monday that he would seek re-election in 2022 as a Republican, announcing that his "fiscally conservative, pro-business, and pro-life values are no longer in-step with the Democrat Party of today."
He added that the values of the Democrats sitting in the capital were not the values of "most Texans," and specifically noted the "ideology of defunding the police, destroying the oil and gas industry, and opening our border" as Democratic values which have had "disastrous consequences" in South Texas – which sits on the southern border with Mexico.
"I have found that my core beliefs align with the Republican Party. I am confident that my switch today is the right decision," Guillen concluded.
Guillen's announcement was celebrated by Republicans, including GOP Chairwoman Ronna McDaniel and Texas Governor Greg Abbott, who both welcomed him into the party.
After 10 terms in office as a Democrat, I'd like to welcome Texas Rep. @RyanGuillen to the Republican Party! Let's keep this momentum going into 2022!

— Ronna McDaniel (@GOPChairwoman) November 15, 2021
Welcome to the party of freedom, opportunity & prosperity @RyanGuillen.As Dems move further left, they're abandoning the people of South Texas & their values.Rep. Guillen's decision to switch parties is indicative of a shifting landscape in South Texas. pic.twitter.com/6gwEV0DNqB

— Greg Abbott (@GregAbbott_TX) November 15, 2021
Abbott also accused the Democratic Party of abandoning the people of South Texas.
Fellow state representative Chris Turner, however, accused him of submitting to the Republicans after they redrew his district.
"Republicans cynically gutted Rep. Guillen's district in the redistricting process, showing complete disrespect for both him and his constituents… Usually, people in Ryan's position would choose to fight. Instead, he has chosen to join them," Turner claimed.
Think your friends would be interested? Share this story!
You can share this story on social media: