Amazon's 'Mayor Pete' documentary is just a 90-minute Buttigieg campaign ad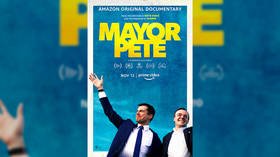 The hagiographic 'Mayor Pete' movie unintentionally reveals Buttigieg to be a vapid and vacuous narcissistic sociopath…which means he'd fit right in at the White House.
This year has been a banner one for sycophantic documentaries of political figures.
First there was the eye-rolling, ass-kissing HBO documentary mini-series 'Obama: In Pursuit of a More Perfect Union'. Then National Geographic gave us the insidiously fawning 'Fauci'.
Now Amazon has rolled out what may be the most unintentionally funny bit of homosexual hagiography in documentary history, 'Mayor Pete', which chronicles Pete Buttigieg's 2020 presidential campaign.
The film starts one year before the Iowa caucuses with the South Bend, Indiana Mayor gearing up for his historic run as the first openly gay candidate for the presidency.
The opening sequence begins with a voice off-camera, I think it is Buttigieg's husband Chasten Buttigieg, lovingly telling the candidate, "don't bullshit us, Peter!"
'Mayor Pete' and its diminutive subject then spend the next hour and a half relentlessly bullshitting us, as this movie is less a documentary than it is an hour and a half long campaign commercial.
What's so funny about 'Mayor Pete' is that the couple at its center, Pete and his husband Chasten, who both appear to have been the recipients of charisma bypass surgery, have all the chemistry of two strangers sitting across from each other in the waiting room of a contagious disease clinic. When the two of them kiss it's like watching lip-transplant patients trying to kiss for the first time. I suppose it's a sign of progress that an openly gay man can now run for president and be in just as loveless a marriage as all of the straight candidates he's competing against.
Another amusing thing about the documentary was that, as it wore on, I realized of whom Pete Buttigieg reminded me…it's the sociopathic serial killer Dexter Morgan who, coincidentally, recently returned to television after an eight-year absence. Did Dexter flee Miami after his last killing spree and hide out in South Bend, become mayor, and is now running for president? Find out on Dexter: New Blood.
Like Dexter, the wooden Pete works extremely hard to try to convince people he's a normal person, yet his dead eyes give away the game. The guy exerts so much energy pretending to be human, he comes across as entirely inhuman.
Like the film that documents him, Buttigieg is so contrived and manufactured I didn't believe anything about him. I spent half the time wondering if Pete's face was a skin mask from one of his alter-ego Dexter's unfortunate victims, or if he was just pretending to be gay in order to increase his electoral chances.
Pete so aggressively pushes his homosexuality as his main selling point the ridiculous notion of his sexuality being just a function of branding and not biology started to seem considerably less absurd. Would any Democrat pay any attention at all to Pete if he were straight? No, of course not.
This is why Pete puts his homosexuality front and center, it gives him the precious political commodity of victimhood which translates to credibility in the eyes of identity-obsessed Democrats. This victimhood is enhanced in the movie with two scenes of homophobic protests against Pete, which are so buffoonish they feel staged.
Buttigieg's husband, Chasten, too makes being gay the be all and end all of his identity. There's a sequence in the film where he goes to a gay camp for kids and leads them in the pledge of allegiance to the gay camp flag, and then dresses potatoes up as drag queens, which felt like the funniest skit 'Saturday Night Live' has never aired.
There's another sequence where Chasten is complaining that all the Democratic candidates have their wives on stage with them on election night in Iowa, except for Pete. Even Pete grows tired of Chasten's whining at this point and resorts to ignoring him when placating fails.
Another immensely amusing thing about 'Mayor Pete' is watching Buttigieg navigate the victimhood pyramid of the Democratic party.
Pete is constantly seen contemplating, rehearsing and then spouting platitudes regarding race. Most notably at a town hall in South Bend after a white cop kills a black man in the city.
In another scene, Pete is seen strategizing over race and he says of his efforts, "make sure it doesn't read as very white." Then the documentary cuts to Pete and Al Sharpton having lunch together in Harlem. Chef's kiss.
As funny as that is, it pales in comparison to the ass-kissing of Joe Biden that the film and its subject engage in.
For example, after an impromptu conversation between Biden and Buttigieg in Iowa, the film cuts to Pete enthusiastically telling an aide that Biden is "such a good guy!"
Later, after Buttigieg drops his presidential bid, he gets a call from Biden, and we eavesdrop on the conversation between the two. 'Mayor Pete' the movie, and Mayor Pete the man, are both so affected and manipulative I couldn't help but wonder if all of these scenes about Biden were staged well after the events of the 2020 primary.
Biden ultimately made Buttigieg the youngest and first openly gay Secretary of Transportation in US history. In that role, his greatest accomplishments thus far are taking paternity leave and saying that some roads are racist.
Fans of Buttigieg shouldn't fret though, because as 'Mayor Pete' reveals, Pete is addicted to style and allergic to substance, and is also malignantly vapid, vacuous, ambitious, narcissistic and sociopathic, meaning he meets all the requirements to be the president of the United States of America. His ascension feels inevitable. God help us all.
Think your friends would be interested? Share this story!
The statements, views and opinions expressed in this column are solely those of the author and do not necessarily represent those of RT.
You can share this story on social media: