Tensions mounting between Biden and Harris camps – media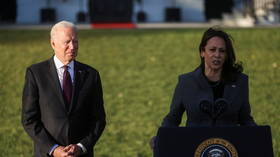 Plummeting approval ratings for both Joe Biden and Kamala Harris have supposedly turned the two politicians and their camps against each other, according to rumors hailing from both ends of the political spectrum.
With Harris' approval rating sitting at a dismal 28%, according to one recent poll, headlines about her performance as vice president have been brutal.
Now, CNN has acknowledged that some of the VP's staff are "getting frantic." In a revealing report on Monday, CNN said that West Wing aides are "worn out" by the apparent "entrenched dysfunction and lack of focus" from Harris' camp.
Meanwhile, multiple current and former aides are complaining that the VP was being "sidelined" by the Oval Office, according to the report.
The administration belatedly attempted to project the image of a harmonious White House to the public on Monday, with press secretary Jen Psaki calling VP Harris a "vital partner" to Biden – but the president's critics have been feasting publicly on signs of unrest within the administration for weeks.
A USA Today/Suffolk poll showed last week that the president's own approval rating sat at a worrying 38%, with nearly two-thirds of Americans urging the party to run someone else in 2024, including 28% of Democrats.
While Harris battles an approval rating worse than Dick Cheney's during the Bush administration, some of her supporters, including the Rev. Al Sharpton, have implied she is being set up to fail and are urging the administration to make better use of her talents.
"Kamala Harris is a leader but is not being put in positions to lead. That doesn't make sense. We need to be thinking long term, and we need to be doing what's best for the party," one top donor to Biden told CNN. Meanwhile, a former Harris aide said the administration was "consistently sending her out there on losing issues in the wrong situations for her skill set."
One example was the president's decision to assign Harris the role of border czar, which the VP was reportedly reluctant to take, knowing it was a 'no-win' situation.
The first female VP of color was hailed for shattering glass ceilings after the November 2020 elections, but many Americans had already been turned off by her own flailing presidential campaign and less-than-progressive history as California's attorney general.
Even the first lady has reportedly been making inquiries in the hope of finding a way to quietly excise Harris from the administration, according to conservative pundit Jack Posobiec. The former naval intelligence officer claimed last month that Harris' own staff were referring to the president as "the Titanic."
Think your friends would be interested? Share this story!
You can share this story on social media: