GOP senator claims Biden 'intended' record gas prices hike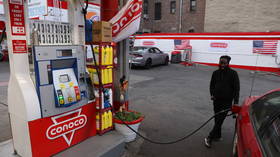 Joe Biden's administration wants Americans to switch from pickup trucks to electric compacts and is letting gas prices run rampant to coerce fans of gallon-guzzlers, Senator Tom Cotton has claimed.
Speaking to conservative outlet Breitbart News, the Republican senator alleged that rising gasoline prices in the US are "the intended effect of Joe Biden's energy policy," rather than "some accident."
"They want gas to cost $4 a gallon because they want all of us to get out of pickup trucks and SUVs and get into small electric compacts or bicycles or scooters or whatever else Pete Buttigieg takes to work," Cotton claimed, without offering evidence.
President Joe Biden admitted last week that fuel prices in particular and inflation in general were a cause for serious concern, and said his administration had a plan to bring the prices down. Inflation has surged in the US, partially due to the pressure caused by global supply chain disruptions.
Previously, US Energy Secretary Jennifer Granholm exposed herself to much criticism over her seemingly callous attitude to the perils of Americans struggling to fill their tanks. When asked during an interview about a plan to tackle prices at the pump, she burst into laughter, calling the idea that she had power over the situation "hilarious" and blaming the OPEC oil cartel for the rising fuel prices.
Some have called for the White House to take drastic measures to control the situation, like reinstating a ban on the export of crude or at least unsealing the Strategic Petroleum Reserve. It remains unclear if Biden would be willing to tap into the emergency fuel reserve – as suggested by Senate Majority Leader Chuck Schumer.
Biden's Republican critics predict inflation will only worsen as the White House begins implementing its ambitious infrastructure spending agenda, with a $1 trillion Bipartisan Infrastructure Framework expected to be signed into law on Monday.
Thirteen House Republicans who broke party ranks to help pass the bill have been ostracized by many other GOP legislators. The bill was passed in the Senate in an uncommonly bipartisan 69-30 vote in August.
"You cannot print trillions of dollars in money on the one hand and also pay people not to work and not to produce the stuff that we need to buy, and on the other hand not expect the price to increase as fast as it has in 30 years," Cotton told Breitbart.
The Biden administration says the infrastructure spending and the yet-to-be-finalized $1.75 trillion social and climate spending bill will help alleviate inflation, rather than boost it.
If you like this story, share it with a friend!
You can share this story on social media: