Loudoun County family to sue public schools over 'negligence' in daughter's alleged restroom rape by 'gender-fluid predator'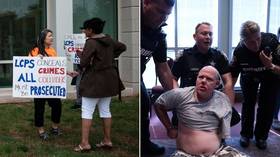 A family in Loudoun County, Virginia will sue school officials over their handling of an alleged rape case at a girls' restroom. It has accused the school board of covering up the incident and other sex crimes by students.
The alleged attack happened at Stone Bridge High School in Ashburn on May 28, and the sheriff's office arrested a 14-year-old male on July 8. According to Scott Smith, the father of the victim, the perpetrator gained access to the restroom under the school's gender affirmation policies because he identified as "gender fluid".
He suspects the Loudoun County Public School (LCPS) of attempting to cover up the nature of the assault and smearing him as a dangerous troublemaker for political reasons. Scott believes that because of this, the same offender had the opportunity to commit a sexual crime against another victim.
Also on rt.com
Parents want Loudoun County, Va. school board to quit after accusation it covered up bathroom rape by 'gender-fluid sex predator'
"The sexual assault our daughter endured should never happen to any young girl, or any child, attending a public school. But because of indifference and negligence by Loudoun County Public Schools and the Loudoun School Board, it did," the Smith family said in a statement announcing their intention to pursue a civil lawsuit against school authorities. "And now, it has happened to another girl at another Loudoun County school at the hands of the very same assailant."
The connection between two alleged sex crimes and their possible link to LCPS gender identity policies was revealed by conservative outlet The Daily Wire earlier this week. Many of the details in the report have since been confirmed by Loudoun County Commonwealth's Attorney Buta Biberaj, including the fact the suspect in both cases was the same student.
The alleged perpetrator, who turned 15 after the May 28 incident, was released from custody following his July arrest and was wearing an electronic monitoring bracelet, the prosecutor revealed. This was necessary, according to Biberaj, because investigators were waiting for results of forensic DNA analysis of the rape kit to support one of the charges against him and the law-mandated 21-day deadline to charge him was about to expire.
"We had to either try it without the DNA and run the risk of not making that case, or ask the court for additional time," she explained.
The juvenile was ultimately charged with one count of anal sodomy and one count of forcible fellatio in the May 28 case. His alleged offenses in the second case, which happened at Broad Run High School on October 6, are sexual battery and abduction. He is currently jailed at the Loudoun County Juvenile Detention Center.
The Loudoun County Sheriff's Office released a statement to address what it called "misinformation" circulating in the media regarding the two cases. It said its investigation of the alleged assault on May 28 took two months because it "was complex".
LCPS said it was prohibited from "investigating complaints of sexual harassment and sexual assault" and did not "impose interim measures to protect the safety of students".
"The board may be obligated to consider long-term suspensions or expulsions and must ensure that students have not been deprived of due process," the statement said. "Consequently, members of the Loudoun County School Board were not aware of the specific details of this incident until it was reported in media outlets earlier this week."
No officials commented on the suspect's gender identity, but investigators said his age bars them from discussing some of the details of his alleged crimes.
A follow-up report by The Daily Wire questioned the school board's claim of ignorance, pointing out that the alleged rape of Smith's daughter was reported in the local media when it covered his arrest and subsequent prosecution.
In October 13 statement, Loudoun school board claims none of its members knew of the alleged rape of a 9th grader at school.But it was reported August 17 in their hometown paper, in an article on a topic they almost certainly would have followed closely.

— Luke Rosiak (@lukerosiak) October 14, 2021
Smith was tackled by police officers after an emotional outburst during a public hearing of the Loudoun County School Board on June 22. He was sentenced to 10 days suspended for public disorder and resisting arrest, with Biberaj personally handling the prosecution.
The Daily Wire also implied that LCPS had a pattern of misreporting sex crimes by students in its official statistics. The May 28 case was not reflected as an alleged sex crime incident in a public database administered by the Virginia Department of Education, it said. And neither was a 2018 incident at Tuscarora High School, during which three football players reportedly held down a younger teammate and "inserted objects into the victim". One of the suspects was charged with sexual battery.
Think your friends would be interested? Share this story!
You can share this story on social media: