Former US President Clinton in 'good spirits' after being hospitalized in ICU with blood infection 'not related to Covid-19'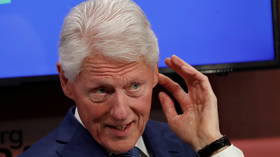 Ex-US President Bill Clinton is receiving intensive-care treatment after being hospitalized for an unspecified infection, a spokesperson said, noting the health episode is unrelated to Covid-19 and that he is recovering.
"On Tuesday evening, President Clinton was admitted to [University of California Irvine] Medical Center to receive treatment for a non-Covid-related infection," Angel Urena, a spokesman for the former commander in chief, said in a statement on Thursday night. Clinton is 75 years old.
He is on the mend, in good spirits, and is incredibly thankful to the doctors, nurses, and staff providing him with excellent care.
Citing a person "familiar" with the situation, the Hill reported that Clinton is suffering from sepsis, or a blood infection, while another source stated he is in the ICU mostly for "privacy reasons" and is now "doing well." CNN, meanwhile, reported that he could be discharged from the hospital as soon as Friday, and that the health issue is not related to Clinton's previous heart problems.
Think your friends would be interested? Share this story!
You can share this story on social media: