US Marine arrested for slamming Afghan exit pleads GUILTY to 'contempt & disrespect,' dares superiors to take responsibility too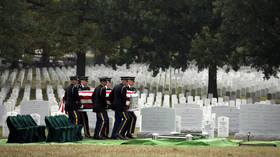 A Marine Corps officer jailed and charged over his public criticism of officials overseeing the US pull-out from Afghanistan has pleaded guilty to six counts, but still insisted on accountability from American leaders.
Lieutenant Colonel Stuart Scheller pleaded guilty to all charges during a Thursday court hearing, after he was arrested for showing "contempt" and "disrespect" toward his superiors in a series of posts and videos online. Military judge Colonel Glen Hines accepted the officer's plea and adjourned court for the day to deliberate on sentencing, which is expected to be announced on Friday, the Washington Post reported.
Scheller was slapped with six charges under the Uniform Code of Military Justice, including showing contempt toward officials, showing disrespect toward superior commissioned officers, willfully disobeying a superior commissioned officer, dereliction in the performance of duties, failure to obey an order or regulation, and conduct unbecoming an officer and a gentleman, according to a six-page charging sheet obtained by Task and Purpose.
Also on rt.com
'I demand accountability': US Marine relieved of duty after blasting 'senior leaders' for poorly planned Afghan exit in viral clip
The officer first rose to prominence after posting a video to social media on August 26 – the same day a suicide bombing outside the Kabul airport killed some 170 Afghans and 13 US troops. The Marine demanded accountability from American leaders for the poorly executed withdrawal, which saw a chaotic, hasty evacuation from the Afghan capital.
Within 24 hours of the critical video going live, Scheller announced that he had been relieved of duty "for cause based on a lack of trust and confidence," but his storm of online commentary continued, and only grew more heated in rhetoric.
In an August 29 video filmed inside a refurbished school bus, Scheller said he would resign his commission and urged his followers to take his lead, vowing to "bring the whole f**king system down." Days later, he shared a photo of his formal resignation letter, requesting a termination date effective September 11 and citing a "loss of trust and confidence" in his superiors. Scheller again called on fellow soldiers to follow suit, saying they should seek "change" and "accountability," and that "every generation needs a revolution."
The Marine was eventually charged and placed into military custody after continuing to post on social media after being ordered to stop. In his last video posted to YouTube before being jailed, Scheller acknowledged that his commentary could result in "pre-trial confinement," and in the same clip threatened to file charges against CENTCOM head General Frank McKenzie for "dereliction of duty" in relation to the Kabul suicide bombing.
Also on rt.com
'Loss of trust' in US leaders: Marine punished for Afghan pullout criticism RESIGNS effective 9/11 & calls for 'revolution'
However, despite his guilty plea, when Scheller was asked why he posted his first video, he argued that the "secretary of defense made decisions that led to the failure in the withdrawal of Afghanistan."
"I did what I did because I thought it was in the best long-term interest of the Marine Corps," Scheller told the judge, adding that he believed by posting the videos on a public platform he had a better chance of getting the attention of top officials, and that he still wanted consequences for the failed Afghan withdrawal.
Going forward I am still demanding accountability.
The officer also defended some of his more radical comments, stating that his calls for 'revolution' did not entail "the violent overthrow of the government," and that he meant to 'bring down the system' only in a "constitutional manner."
The prosecution, led by Lieutenant Colonel Troy Campbell, argued that the military only sought to "protect" the officer from himself, saying "the command never quit on him," but that he chose to continue escalating the situation. Scheller acknowledged that his comments toward a particular superior – General David Berger, who was singled out in some of his posts – were "without merit and inappropriately demeaning."
Prosecutors recommended that he be issued a letter of reprimand and ordered to forfeit $5,000 of pay per month for six months, decisions expected from judge Hines by Friday. While Scheller has already asked to resign from the service, the nature of his discharge will ultimately be decided by the secretary of the Navy, according to Task and Purpose.
Also on rt.com
Marine jailed for criticizing Afghanistan withdrawal faces SIX charges in special court-martial
Think your friends would be interested? Share this story!
You can share this story on social media: