No crime for guy: 'James Bond' star Daniel Craig reveals he visits gay bars to avoid 'aggressive d**k swinging'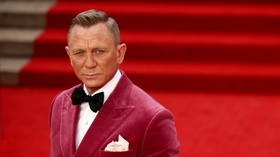 The actor who famously portrayed Agent 007 has said this week that he prefers to visit gay clubs over heterosexual venues because he's less likely to run into people looking to fight.
During a Tuesday appearance on SiriusXM's Lunch with Bruce podcast, Craig told host Bruce Bozzi – who is gay – that he's "been going to gay bars for as long as I can remember."
Craig explained that one of the reasons he prefers visiting gay bars is because of "the aggressive d**k swinging in hetero bars" which caused him to "get into fights" more often.
The actor added that he "just got very sick" of the vibe in straight venues, whereas in gay bars "everybody was chill" and it was "a very safe place to be."
"I could meet girls there, cause there are a lot of girls there for exactly the same reason I was there," Craig said.
Despite having been married to actress Rachel Weisz since 2011, Craig's sexuality was questioned in 2019 after his 'No Time to Die' co-star Rami Malek revealed that the two had kissed during production.
Also on rt.com
Three things lie behind Britain's cultish obsession with James Bond: nostalgia for Empire, its national insecurity, and xenophobia
Malek told Stephen Colbert that after the two actors had finally perfected a scene, Craig picked him up and "a kiss transpired between the two of us."
Though he stressed that he couldn't exactly "tell who initiated" the incident, Malek said, "I'm going to say that Daniel initiated it. And I was very taken aback."
Craig's appearance in 'No Time to Die' is allegedly the last time he will play James Bond. After multiple delays due to Covid-19 pandemic, the film was finally released in theatres this month.
Think your friends would be interested? Share this story!
You can share this story on social media: