'It's not about the money': NBA's Irving insists vaccine choice is about freedom... but top pundit blasts 'flat-out stupid' stance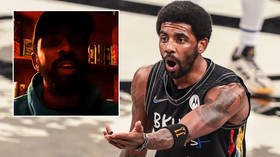 Brooklyn Nets star Kyrie Irving has insisted he is "doing what's best" for him and will not retire after being exiled for not taking a Covid vaccine – leaving a top NBA pundit unable to contain his rage at his "stupidity".
Nets' general manager Sean Marks confirmed on Tuesday that Irving will not feature for the franchise until he is "a full participant" in New York City's vaccine protocol.
The announcement, observing rules in the city that anyone attending venues such as the Barclay's Center and Madison Square Garden must have at least one dose of the vaccine, has caused uproar and is expected to cost Irving millions of dollars.
"We respect his individual right to choose," Marks said. "Currently the choice restricts his ability to be a full-time member of the team, and we will not permit any member of our team to participate with part-time availability."
Also on rt.com
'No-one should be forced': Row over freedoms erupts again as NBA superstar Irving is ruled out by his own team over vaccine choice
But Irving, who has been accused of 'liking' oddball conspiracy theories online and spreading information across locker rooms in the NBA, where 90% of players are said to be vaccinated, is adamant he will not cave in, as fellow player Andrew Wiggins did, and get the jab.
"I feel like the only options [were] to get vaccinated or not play in the NBA," said the Golden State Warriors star, who was refused a religious exemption.
Taking to Instagram Live, Irving advised listeners to "do what's best for you", adding: "I am not an advocate for either side."
"I am doing what's best for me," he insisted. "I know the consequences here, and if it means that I'm judged and demonized for that, that's just what it is – that's the role I play.
"That's the role I play but I never wanted to give up my passion, my love, my dream just over this mandate."
Irving was also keen to address rumors and suggestions that the seven-time All Star may step away from the game altogether.
"Don't believe I'm retiring, don't believe I'm giving up this game for a vaccine mandate," he said.
"I'm not going and leaving this game like this. There's still so much more work to do, and there [are] still so many other [youngsters] to inspire, because I know they want to be better than me."
His future in Brooklyn looks highly uncertain, with Marks' decision meaning that the point guard isn't even able to help his outfit on the road.
It has been suggested that the championship-fancied side can still threaten the Milwaukee Bucks' crown with the talents of Kevin Durant and James Harden alone, and may ship Irving out.
The Nets are thought to want a sizeable trade off if they are to part ways with the ex-Cleveland Cavelier.
Despite being set to lose half of his $35 million salary, Irving emphasized that he is not financially driven and does not hold personal grudges against the NBA or the Nets.
"So what? It's not about the money," Irving said. "It's not always about the money. It's about choosing what's best for you. You think I really want to lose money?
"You think I really want to give up on my dream to go after a championship? You think I really just want to give up my job?
"Once again, I'm going to repeat this. This is not about the Nets, this is not about the organization, it's not about the NBA, it's not politics.
"It's not any one thing. It's just about the freedom of what I want to do."
Before Irving went online, popular pundit Stephen A Smith shared a rant in which he slammed the baller for his stance on TV program First Take.
"I've been covering the NBA now for almost 25 years. This is some of the stupidest nonsense I've ever seen. Just flat-out stupid," Smith fumed.
"So, let me get this straight... you don't have a problem with taking the vaccine? Your position is that you're going to sit up there and compromise the championship aspirations of an organization you sign on to represent?
"You're going to compromise [your success and role in key signings] because you want to give a voice to the voiceless. Really? And how is that going to work out for you, Kyrie Irving?
"You're going to disappear from the game of basketball? Who the hell is going to be interested in what you have to say when have proven that you can't even be trusted enough to do your damn job?
"It not only makes you look hypocritical and untrustworthy. It makes you look what I know you are not, which is flat-out stupid.
"It's the stupidest thing that I think I've encountered with an NBA player. You're going to sit up there and not play and not take a vaccine that, evidently, you don't have a problem with it, according to [a] report? You just want to give a voice to the voiceless? Really?"
The broadcaster later took to YouTube to once again express anger at Irving's Live session.
Also on rt.com
'Kyrie just sacrificed more than Kaepernick ever did': Donald Trump Jr wades into vaccination row over NBA star Irving
You can share this story on social media: