'Nobody will freeze': Russia will supply Europe with as much gas as it needs, says country's energy committee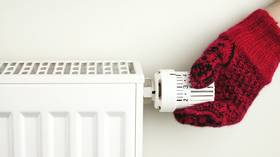 Europe will get as much gas from Russia as it needs to curb energy shortages, while gas prices will inevitably stabilize, the country's National Energy Committee head Aleksey Gospodarev told RT at the Russian Energy Week forum.
"There will be as much gas as needed. As [Russian President Vladimir Putin] stressed once again, we have never denied gas to anyone," Gospodarev said, noting the paradox that many fear Russia may use gas as leverage against its opponents although "it has never happened in history."
Also on rt.com
Russia will set new record for natural gas output in 2021 – Novak
"As the president guaranteed, nobody will freeze. As much gas will be supplied as needed," the official added.
Gospodarev predicts gas prices will stabilize, noting that all experts think likewise. However, according to him, the stability lies in long-term contracts, while market trading in the energy sphere is highly volatile.
"Europe deliberately moved towards market pricing in the gas sphere, toward the so-called spot market. Here is the result, since there are a lot of unknowns in the formation of this pricing… a combination of factors that are difficult to predict led to this jump," he said, referring to the recent surge in gas prices in Europe.
"Europe wants to form a spot market – the invisible hand of the market must align and determine prices, but as President [Putin] said, this is gas we are talking about. This is a more complex product that is the foundation for the entire economy," the official said.
Also on rt.com
Natural gas prices drop as Putin says Russia will boost supplies to Europe
November gas futures on the TTF hub in the Netherlands traded around $1,200 per thousand cubic meters on Thursday, after reaching an all-time high of $1,937 last week. According to Gospodarev, the move towards market pricing in the gas industry is unnecessarily difficult, as there may be a lot of speculative actions.
"It is believed that the price jump was spurred on by speculative actions. No economy will benefit from this," the official stated, stressing that "one does not need to be dependent on volatility in the energy market."
Long-term contracts are another matter, he said, noting that these deals now put a cap on prices at which countries buy Russian gas. These figures differ significantly from the recent record-breaking prices on the market, he stressed.
"If you can forecast prices for major energy products in the long term – which are the basis for the formation of the country's GDP – that's when you will be able to shape your investment policy and not depend on price swings," the official emphasized.
For more stories on economy & finance visit RT's business section
You can share this story on social media: