'Robbing from our children's future': Prince William criticises billionaires for space ventures, says they take focus off Earth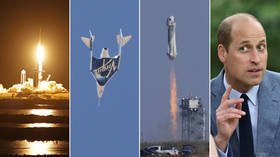 In a rare moment of almost open reproval coming from a British royal, the Duke of Cambridge appeared to criticise entrepreneurs involved in commercial space projects, saying humanity needs to "repair this planet" first.
Environmental issues should become a priority for the people living on Earth, be it younger generations or those who have already achieved a lot and are now investing their money and efforts in space ventures, Prince William has said.
"We need some of the world's greatest brains and minds fixed on trying to repair this planet, not trying to find the next place to go and live," he pointed out during an interview broadcast on BBC on Thursday.
In a thinly veiled reprimand of Elon Musk, Richard Branson, and Jeff Bezos – the latter of whom just sent 90-year-old 'Star Trek' actor William Shatner into space – Prince William said that he himself has "absolutely no interest" in heading above the clouds.
The carbon cost of space flights is a "fundamental question," the British royal said. He added that those who have both intellectual and financial resources should invest in environmental efforts "rather than giving up and heading out into space to try and think of solutions for the future." Otherwise, there will be no playing outdoors for coming generations, whose "futures are basically threatened the whole time," the father-of-three suggested.
"If we're not careful, we're robbing from our children's future through what we do now," he said, adding, "I think that's not fair."
The prince's comments drew a range of reactions on social media. While some praised him for "talking common sense" and highlighting the "money wasted" on space projects, others suggested that somebody "living off the taxpayers money" was not in any place to criticise private initiatives.
Sounds like a conversation the church had with Galileo in the 16th century. Counting how long it will take for prince Williams to admit he was wrong.

— TaiwanStrong (@AfricaClear) October 14, 2021
Caring for our planet and space travel "are not mutually exclusive," some commentators said, pointing out that space exploration "could develop technology that benefits us here on Earth."
Prince William also praised his father Prince Charles' efforts in highlighting climate change issues, despite it being a "hard road." "He's had a really rough ride on that, and I think he's been proven to have been well ahead of the curve," William said, while expressing hopes that his own son, Prince George, will not have "to ramp it up even more."
"For me, it would be an absolute disaster if George is sat here… in like 30 years' time whatever, still saying the same thing, because by then we will be too late."
We know that young children already identify the climate as one of their biggest worries, and Generation Earthshot aims to educate and encourage them that together we can find the answers. pic.twitter.com/mP0RjRa8rB

— The Duke and Duchess of Cambridge (@KensingtonRoyal) October 13, 2021
This week, the Duke of Cambridge, together with his wife Kate Middleton, visited an event in West London to encourage environmental awareness among school children. On Sunday, a green carpet will be rolled out for the royal couple to attend the Earthshot Prize awards ceremony, William's initiative. Its first five winners for offering solutions to environmental problems will be given one million pounds (1.4 million US dollars) each.
William's younger brother Prince Harry and his wife Meghan Markle, who are now living on Musk and Bezos' side of the Atlantic, are also known to be vocal advocates of protecting the planet from climate change. However, they have often found themselves in hot water for using private jets, which some see as hypocritical given their carbon footprint.
Also on rt.com
'Eco-warriors Meghan and Harry' in hot water for flying private jet… though some wonder how it's newsworthy
If you like this story, share it with a friend!
You can share this story on social media: