4 injured in Texas school shooting, suspect arrested & 'all clear' given by police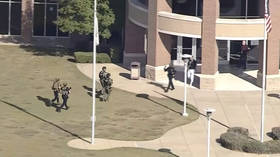 Four people were injured after a shooting at Timberview High School in Arlington, Texas. Police gave the 'all clear' two hours after the incident was first reported and later took the suspect into custody "without incident."
Nearby schools were placed on lockdown during the Wednesday morning chaos and the Arlington Police Department confirmed four victims were injured and sent to hospital. Police began a search for suspect Timothy George Simpkins, who fled the school and was described as "armed and dangerous."
The police department later confirmed the 18-year old had been taken into custody "without incident" and was charged with "multiple counts of Aggravated Assault with a gun."
Police said the shooting may have been sparked by a fight that broke out in a classroom before a student opened fire.
Kevin Kolbye, the assistant chief of Arlington Police said he had "high confidence" that Simpkins was the only shooter.
Parents were directed to a reunification point at the nearby Center for Performing Arts, though local media reports initially indicated that some students and staff remained locked in their classrooms and offices.
A line of buses formed outside the school ready to transport students to meet their parents at the reunification point.
Police said most students were safely evacuated from the school.
The Timberview shooting was reported shortly after a false alarm at nearby Washington Liberty High School, where an anonymous caller phoned in to warn there was an active shooter in the building.
While no evidence of a threat was found following the call, classes were nevertheless canceled as a safety precaution.
Wednesday's shooting also came just a few days after a shooting at a Texas charter school in which the campus principal was injured. The shooter in that case was a 25-year-old former student, who quickly surrendered to police after firing his weapon.
Also on rt.com
Arlington, Texas school shooting suspect identified as 18yo, arrested 'without incident'
Think your friends would be interested? Share this story!
You can share this story on social media: