Teacher resigns in tears during board meeting in Virginia school district mired in battles over trans rights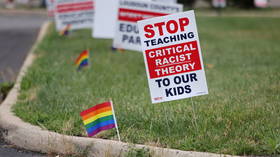 The latest public hearing on how children should be taught in Loudoun County was as contentious as previous ones. A teacher used her speaking time to announce her resignation, tearfully rejecting the board's "politicized agendas."
"Within the last year, I was told in one of my so-called 'equity trainings' that white Christian able-bodied females currently have the power in our schools and that, quote, 'this has to change.' Clearly, you've made your point. You no longer value me or many other teachers you've employed in this county," fifth-grade teacher Laura Morris said during the Virginia school district hearings.
Lots of impassioned arguments tonight from both sides.One of the most striking moments was this...This @LCPSOfficial teacher quit right in front of the board, b/c she said they're forcing her to "push highly politicized agendas on...children." @wusa9pic.twitter.com/K7KYKLCHA0

— Jess Arnold (@JessArnoldTV) August 11, 2021
She went on to announce that she was resigning from her position, her voice quavering as she fought tears.
I quit your policies, I quit your trainings, and I quit being a cog in a machine that tells me to push highly politicized agendas on our most vulnerable constituents, the children.
The impassioned speech was one of dozens made during the Tuesday meeting of the Loudoun County School Board (LCSB), both supporting and opposing its policies. The direction that the LCSB has taken has split parents and teachers into opposing camps, who have been emotionally defending their side in the conflict.
The parties staged a protest and a counterprotest outside ahead of the meeting in the town of Ashburn. Unlike the last session, no disturbances happened during the event. The previous public hearing was cut short by board members, and two opponents of the LCSB who refused to leave the hall were arrested.
Amid the high emotions, one board member, Beth Barts, joined the session virtually, saying she was advised to do so over concerns for her personal safety. Many critics of the LCSB have been calling for the resignation of its members.
Also on rt.com
2 arrested as Virginia school board shuts down meeting over parents' loud protest against transgender policy, critical race theory
The trigger point for the festering conflict was Proposal 8040, a draft measure to order school employees to affirm trans and nonbinary students in their choice of gender identity. It would require addressing them by their chosen names and pronouns and would give trans students access to restrooms and locker rooms of their preferred gender.
Those who favor the policy say it would greatly benefit the well-being and safety of minority students and move the county's public schools in the right direction. During the Tuesday meeting, one speaker, an activist who identified herself as a transgender woman, said inclusive policies "improve the physical and mental health of transgender students" and that there was "no evidence that this harms their cisgender peers."
Critics of the policy voiced concerns about the safety of their daughters, who would have to share private spaces with students assigned male genders at birth. Others argued that confirming the transition wishes of kids would harm the children.
Elementary school gym teacher Byron Cross, who refused to abide by the proposed gender-affirming rules during one of the hearings earlier this year, was suspended by LCSB, but a court later ordered his reinstatement on First Amendment grounds. The board said it would appeal the court's ruling.
Also on rt.com
'Neither legal nor constitutional': Virginia teacher who was put on leave for opposing gender pronoun rules SUES school district
The issue of freedom of speech was brought up by many critics of the board, including Morris in her resignation speech. She said she was told by the superintendent that "a dissenting opinion is not allowed even to be spoken in my personal life," and was encouraged to report on colleagues who voice such opinions.
Loudoun County Public Schools would not comment on her decision to step down. The school division previously said it "does not condone the actions of employees – or anyone – who would target fellow members of the community for expressing their viewpoint."
The debate over schooling in Loudoun County is not limited to trans issues. Critics of the board are accusing it of adopting ideology-driven agendas, like shaping the curriculum in line with the critical race theory (CRT). The LCSB denies embracing the highly controversial view of American history and society, which states that it's founded on institutionalized racism that needs to be dismantled.
Also on rt.com
Virginia to revamp math curriculum, CANCEL advanced courses prior to last two years of high school to force racial equity
The public hearings are scheduled to continue on Wednesday when a vote of the trans rights proposal is expected to be called. Another hot-button topic on the agenda is a possible indoor mask mandate at county schools.
If you like this story, share it with a friend!
You can share this story on social media: