Raytheon's alleged use of critical race theory in employee training appears to violate US anti-discrimination law, senator says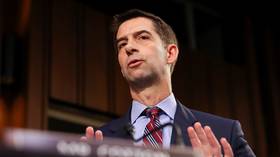 US Senator Tom Cotton (R-Arkansas) is demanding answers from Raytheon's CEO over the giant defense contractor's alleged use of critical race theory (CRT) in employee training, warning such courses appear to violate federal law.
Cotton sent a letter to Raytheon chief executive Gregory Hayes on Tuesday, insisting that the company provide to him any staff training materials on diversity, equity and inclusion. He also asked Hayes to disclose information on any companies or individuals that the missile maker pays to present such classes.
"One of the nation's largest defense contractors is indoctrinating employees with critical-race-theory-inspired trainings," Cotton said on Tuesday in a Twitter post. "This is unacceptable. American companies have a responsibility to treat everyone equally, without regard to race."
One of the nation's largest defense contractors, @RaytheonTech, is indoctrinating employees with Critical Race Theory-inspired trainings.This is unacceptable. American companies have a responsibility to treat everyone equally, without regard to race.https://t.co/DRPkGnTz1U

— Tom Cotton (@SenTomCotton) July 13, 2021
Specifically, Cotton noted in his letter that Title VI of the Civil Rights Act provides that "no person in the United States shall – on the ground of race, color or national origin – be subjected to discrimination under any program or activity receiving federal financial assistance." He said, too, that Title VII of the Civil Rights Act forbids employers from discriminating on the basis of race and from engaging in activities that "limit, segregate or classify" employees.
"Government contractors, as stewards of federal taxpayer dollars, have a special obligation to treat employees equally, without regard for race," the senator said.
Cotton warned that if Raytheon or any other federal contractor isn't fulfilling its legal obligation to steer clear of discrimination, "Congress will respond, which could affect that company's contracts and ability to do business with the US government in the future."
Raytheon is the second-largest US defense contractor, ranking only behind Lockheed Martin. Just this month, the company won a $2-billion contract to develop a new air-launched nuclear cruise missile for the US Air Force.
Raytheon training materials came to light last week, showing that the company's "Stronger Together" diversity campaign segregates employees by race and identity group. The CRT-inspired program, which Hayes launched last year amid Black Lives Matter riots across the US, directs white, heterosexual, Christian employees to recognize their status atop the oppression hierarchy and to "step aside" for non-whites.
Employees are told to "identify everyone's race" during workplace conversations, with whites ordered to listen to the experiences of "marginalized" identity groups and give the floor to them in meetings, "even if it means silencing yourself." Workers are told to oppose equality, as in treating everyone the same, and embrace "equity" in pursuit of "equality of the outcome."
Also on rt.com
Woke Raytheon: Nuclear missile-maker segregates employees, teaches critical race theory – documents
The training materials "contain gross stereotypes about various groups" and brands many, such as whites and Christians, as members of privileged groups that "have the luxury to ignore . . . injustices," Cotton said. Employees are told not to treat each other equally, he added, and are directed to "radical" reading materials, such as an article that advocates defunding the police.
"This material is rooted in a radical ideology called critical race theory that denounces the United States as systemically racist and rejects important aspects of the American civil-rights tradition, including equality before the law," Cotton told Hayes.
Also on rt.com
Biggest US teachers' union adopts measures to promote & defend critical race theory, controversial 1619 Project
Anti-CRT activist Christopher Rufo cheered Cotton's letter and said Raytheon "must pay a price" for allegedly violating the Civil Rights Act. But some social media users accused the senator of being a white supremacist and said the government doesn't have the authority to intervene in a private company's choice of training programs.
"Are you suggesting that you can control the inner workings of private companies?" one commenter asked. "Wow. You are more of a racist than I ever thought."
But Kimberly Hermann, general counsel for the Southeastern Legal Foundation, a conservative non-profit, said it's imperative that lawmakers "take action against unconstitutional and illegal racial discrimination."
It is imperative that those who took the oath to uphold our Constitution take action against unconstitutional and illegal racial discrimination. That is what @SenTomCotton is doing here. It is important work. Well done. https://t.co/etSHOQEpyV

— Kimberly Hermann (@kimmiehermann) July 13, 2021
Like this story? Share it with a friend!
You can share this story on social media: