More than 40 killed, scores injured as blaze ravages Iraqi hospital's Covid-19 ward (VIDEOS)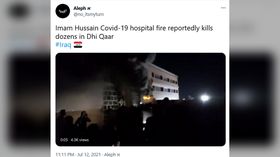 A hospital fire has broken out in the southern Iraqi city of Nasiriyah, reportedly killing at least 44 people, injuring 67 and marking the country's second deadly blaze this year at a medical facility for Covid-19 patients.
Footage from the scene shows dark smoke rising from a fire at the Imam Hussein Educational Hospital in Nasiriyah on Monday night. Another clip purports to show victims being carried out of the building.
The fire broke out inside the hospital's isolation area for Covid-19 treatment, Iraq's state-run INA news agency reported. The fire has been brought under control, the outlet said, citing the health directorate of the Dhi Qar Governorate. Search operations were ongoing, suggesting the casualty toll may continue to rise. An undisclosed number of patients remain missing.
Early reports suggested that an oxygen tank explosion caused the fire that quickly engulfed the building.
In the wake of the tragedy, the city's health and civil defense managers were suspended and arrested on the orders of Iraqi Prime Minister Mustafa al-Kadhimi. The head of the hospital was also placed under arrest.
At least 82 people were killed and more than 100 were injured in April, when an oxygen tank exploded in a hospital for Covid-19 patients in Baghdad. That fire reportedly broke out in the Ibn Khatib hospital's intensive care unit, and many of the deaths resulted from patients being taken off their oxygen machines for evacuation or suffocating from smoke inhalation.
Think your friends would be interested? Share this story!
You can share this story on social media: