'Grievous mistake' for Cuba to think US caused demonstrations, Blinken warns as Biden backs 'remarkable' protesters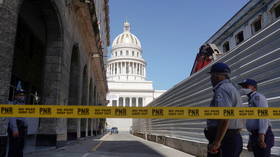 US President Joe Biden praised the protests in Cuba for demanding "freedom from an authoritarian regime," as his Secretary of State Antony Blinken denied they were in any way a product of Washington's actions.
Havana has blamed the US for the protests that erupted across dozens of Cuban cities on Sunday. President Miguel Diaz-Canel said on Monday that the continuing US policy of "economic suffocation" against the island nation has caused shortages of food and medication and power outages.
Also on rt.com
Cuba's president blames Washington for protests, says US sanctions responsible for shortages and 'social unrest'
Speaking to reporters at the State Department on Monday afternoon, however, Blinken said "it would be a grievous mistake for the Cuban regime to interpret what is happening in dozens of towns and cities across the island as the result or product of anything the United States has done."
Washington put Cuba under a trade embargo in 1958, after revolutionaries overthrew the US-backed dictatorship of Fulgencio Batista.
As Blinken was speaking to reporters, Biden himself made a statement about the "remarkable" protests, calling on the Cuban government "to refrain from violence and the attempts to silence the voice of the people."
#BREAKING: President Biden Responds to "remarkable" #Cuba protests:"The Cuban people are demanding their freedom from an authoritarian regime. I don't think we've seen anything like this protest in a long, long time... The United States stands firmly with the people of Cuba." pic.twitter.com/0IUEAQgtCq

— Forbes (@Forbes) July 12, 2021
He also echoed the statement issued earlier in the day by the White House and posted on his presidential twitter account, which spoke of Cubans "bravely asserting fundamental and universal rights" that must be respected and calling on the "regime" in Havana "to hear their people and serve their needs at this vital moment rather than enriching themselves."
White House press secretary Jen Psaki had described it as a statement "we put out in the president's name this morning, in his voice of course," raising some eyebrows among Republicans.
"The statement...we put out in the president's name this morning, in his voice of course"So does that mean the statement didn't come from Joe Biden? pic.twitter.com/51w8nyv0lj

— Benny (@bennyjohnson) July 12, 2021
The Obama administration, in which Biden was vice president, moved to relax some of the restrictions against Cuba, culminating in the reopening of embassies in 2015. Most of these measures were reversed by President Donald Trump in November 2017, however. Unlike many Trump administration policies revoked by Biden since he took office in January, these sanctions against Cuba remain in effect.
Like this story? Share it with a friend!
You can share this story on social media: