George Galloway: Here's why I'm going to court to challenge a rigged election - words I never thought I'd write about Britain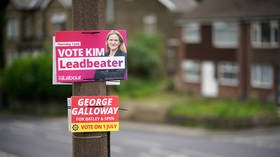 Postal votes used to make up a handful of votes in elections - now they comprise close to half. And, in Batley and Spen, they were all under the control of a Labour council which supported the Labour candidate. It stinks.
"George was matching Labour vote for vote, at one point he moved ahead of them. Then a whole slew of votes arrived on the table…"
This testimony from a rival party counting agent who witnessed the counting of votes at the Batley and Spen by-election is just a tiny sample of the evidence we shall lead in our legal action to set aside the result of the election and force a re-run of the contest.
Also on rt.com
Postal voting on demand is an affront to British democracy and George Galloway may be about to shine a light on it
To be clear, I am NOT saying that I won the election, still less that I am unhappy with the stunning 22% vote share which we achieved from a standing start in just four weeks in a constituency where I was frequently, ubiquitously, described as an "outsider".
The conduct of the count, while egregious, suspicious, damning, is not the main thrust of my court challenge, but it does put the tin-hat on a contest so Orwellian as scarcely to be believed unless you were there.
Though tradition stipulates a recount of the votes where the winning margin is close, particularly less than 1% of the vote, this was denied by the Returning Officer. It was requested by both the Tory runner-up and by myself. It was denied without reason.
The "slew of votes" which tuned up in the dead of night were "postal votes", though they did not arrive by post, but by open black plastic bin bags in unmarked cars with no police presence, entirely unsealed, unprotected from potential contamination. This, in the highest profile by-election in many years.
In 2001, just 4% of the votes cast in Batley and Spen were postal votes. In 2019, it had gone up to 21%. In this by-election in 2021, it was an astonishing 42%, explaining the strange sensation of having won the election comprehensively on the day and yet losing it in the dead of night.
Leaving 16,000 votes in the tender care of a Labour local authority in a by-election in which the fate of the Labour leader was at stake was always a triumph of hope over the bitter experience of all those who have fought Labour in its citadels in the past. They could teach Tammany Hall a trick or two.
Postal voting used to be for people who were sick, serving overseas, or housebound. Postal voting on demand, as I pointed out in parliament over 15 years ago, has become a corrupt mechanism to rig elections. Words I never thought I'd write in relation to my own country.
But the stuff of my legal action begins long before that.
A former friend and colleague of mine, Phil Woolas, was expelled from Parliament in 2010, his election victory - by 103 votes - set aside, and he was disqualified from standing again. His crime was the making of false statements against his Liberal Democrat opponent.
Woolas's offence pales into insignificance compared to what his party did to me in 2021.
Photoshopped pictures of me holding weapons in the presence of my small children, fake claims that I supported and was backed by the fascist murderer of the late Jo Cox MP, sister of my Labour opponent in the by-election, were a daily occurence. Not a single MSM outlet even reported it.
Also on rt.com
Brits face never-ending 'woke' culture wars as American-style divisions on way to take hold in UK, pollster warns
Virtually every media outfit reported that Labour campaigners had been egged by my supporters. Not a single one reported that a minor with drug problems, with not the remotest connection to our campaign, was then arrested for it.
This media narrative of my bringing "divisiveness", even "violence", to the election campaign was a steady drumbeat, the sound-track to the by-election. Yet not only was it false, it was an organised falsehood and was the very reverse of the truth.
The photographic and video evidence of our campaign posters being torn down by Labour councillors is readily available, but was never reported by anyone. Ditto the video of Labour activists destroying our PA speaking system. I will never forget the thin-lipped arrogance of the activist who did it. The local police were "too busy" to act on it.
This false narrative was set by the election-changing turning point of the campaign. The haranguing of the Labour candidate by an anti-LGBT campaigner outside the Medina Mosque.
This ugly event has now turned into election-myth. And it was all co-ordinated by a Labour campaign atop of which was a Blair-era spin-doctor flown-in from France to take charge.
The man shouting at my Labour opponent - mainly about Kashmir before turning to LGBT issues - not only had no connection to me, but had been physically ejected from a rally of mine in Dudley in 2019. He had travelled from Birmingham to Batley and surprisingly found his way to the very mosque both she and I were canvassing that afternoon. He has nothing to do with Batley, nothing to do with me, and yet his unexpected intervention in the campaign undoubtedly turned the tide.
He never mentioned me, has stated that his appearance had nothing to do with me, and the only person in the whole encounter who undoubtedly knew him, a neighbouring Bradford Labour MP, stood laughing behind the Labour candidate throughout the encounter.
Also on rt.com
UK parliamentary probe finds police forces breached 'fundamental rights' at Sarah Everard vigil & violent 'Kill the Bill' protest
Worse, much worse, the Labour candidate after the event said on camera that I had "stood on the other side of the road, laughing" during her ordeal.
This footage was endlessly played on television on newspaper websites and was referenced by innumerable Labour figures throughout the rest of the campaign and beyond.
It was a big fat lie.
Not only was I not on the other side of the road laughing, I was on the same side of the road, a hundred yards away and very far from laughing.
Importantly, I was on camera throughout the event and all of the foregoing can be and will be proved in court.
I knew at the instant the incident was happening that it was a potential game-changer and very damaging to me. That's before I knew it had been staged by a political enemy, who'd travelled a hundred miles to do it, who'd had to be thrown out of one of my events, who had travelled the country harrassing Labourites on LGBTQ issues, and who was known by at least the Labour candidate's minder. That's before one of the biggest "false-statements" in recent electoral history was uttered by my opponent and went half-way round the world before the truth could get its trousers on.
Also on rt.com
UK schools are 'overtly' politicising classes on sex & gender issues, despite laws mandating neutrality, Ofsted warns
There is much more, from the vast overspend on the Labour election campaign, busting, perhaps twice over, the allowable election expenditure, to the Labour Council (the same one which counted the votes) spending scarce council money removing thousands of my election posters three days before polling day on unlawful grounds, and on the very day yet another Labour leaflet came out headlined, "Galloway running out of steam". Much, much more.
If there is any justice left in this land, this rigged election in Batley and Spen will not stand.
Like this story? Share it with a friend!
The statements, views and opinions expressed in this column are solely those of the author and do not necessarily represent those of RT.
You can share this story on social media: