Letting filthy private jets go tax-free shows how the EU prioritises the mega-rich over the masses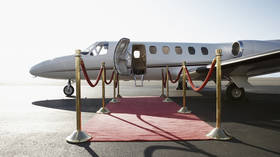 Despite being hugely damaging for the environment, private planes operated by millionaires are to be given carbon tax exemption by hypocritical bureaucrats who tirelessly push a green agenda. It's Brussels hypocrisy at its finest.
Before many seriously thought about Brexit, and before Boris Johnson and the Leave brigade had even dared hope for a referendum on quitting the European Union, the party that went on to cause a political earthquake by winning the 2014 European elections came up with a brilliant campaign billboard that resonated across the country.
The large poster from the outliers at UKIP juxtaposed two images: one of a miserable and crowded commute on a bus and the other of a Brussels bureaucrat sitting comfortably in the back of a chauffeur-driven limousine, smug smile plastered across his face and the flags adorning the facade of the European Commission's headquarters visible through the rear window.
The caption read, "Your daily grind… funds his celebrity lifestyle" and people loved it. Not just because it was true, but because it showed the divide between those who lead the EU and the ordinary working people of Europe who are led by them.
So, the news that private planes will enjoy an exemption from the proposed EU jet fuel tax when it presents its draft amendments to the energy taxation directive comes as no surprise. Anything that threatens the luxury lifestyle of the pampered bureaucrats and their cronies is never given any real consideration.
The excuse being used is that a flight carrying passengers is just the same as a flight carrying cargo, because it's to "aid the conduct of their business." A further exemption from the proposed tax will also be afforded to pleasure flights, where aircraft are used for "personal or recreational" purposes that have nothing to do with business or professional use. That's all bases covered then.
Green agenda? Fuhgeddaboudit!
Also on rt.com
Jeff Bezos' wealth soars above $211 BILLION after Pentagon calls off Microsoft contract
Elsewhere, meanwhile, the EU piles the pressure on European commercial airlines such as Air France-KLM, insisting that permission to merge businesses or access financial aid from their national government are conditional on a reduction in short-haul flights covering journeys that might also be made by rail.
Now it's all becoming clear. This new carbon tax is aimed at the regular schmucks who take cattle class and pay through the nose for luxuries like having their luggage accompany them.
The perma-tanned politicians heading off to their second homes on the Côte d'Azur or airhead celebrities dashing off to Davos to lecture us all about saving the planet are given a pass, because that's the sort of everyday high-minded hypocrisy that makes Brussels tick. The brazen cheek of the bureaucrats is matched only by their inability to read the optics here.
But it's not just me whinging. Andrew Murphy, aviation director at Transport & Environment (T&E), Europe's leading NGO campaigning for cleaner transport, said earlier this year, "Flying on a private jet is probably the worst thing you can do for the environment, and yet super-rich super-polluters are flying around like there's no climate crisis. But because most of the distances that attract private flights are distances ideally suited to the first generation of low-emission aircraft, private flying can be used constructively to clean up the sector."
He was speaking after the launch of a T&E report that showed private-jet carbon dioxide emissions in Europe rose by 31% between 2005 and 2019.
That Brussels is wasting such a golden opportunity to effect real change in aircraft emissions as part of its pursuit of green sainthood speaks volumes. The problem is it's hard to hear exactly what's being said above the whine of the Gulfstream jet engines.
Like this story? Share it with a friend!
The statements, views and opinions expressed in this column are solely those of the author and do not necessarily represent those of RT.
You can share this story on social media: