Postal voting on demand is an affront to British democracy and George Galloway may be about to shine a light on it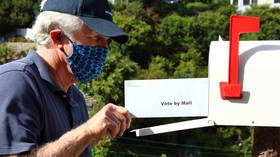 Britain claims to be a bastion of democracy but its largest political parties do nothing as that very democracy is being perverted by the postal-vote system.
Following Labour's surprise victory in the Batley and Spen by-election, Sir Keir Starmer, the party leader, declared that "Labour is back." It seems a somewhat strange assertion, considering that his party's majority had been cut from over 3,000 to 323 during the by-election. It also might be a little premature, as George Galloway, the Workers Party of Great Britain candidate, said that he is mounting a legal challenge to have the result set aside.
Last night, on his talk show, the Mother of All Talk Shows (MOATS), Galloway announced the basis of his challenge. He listed a host of reasons, including the telling of untruths about a candidate, the removal of his posters by the local council, the lack of a recount, overspending, and alleged postal-vote manipulation.
The one that interested me most was the postal vote issue. Now, I have some experience of this, having stood and campaigned in too many elections to recount. I have also voiced concern about postal vote fraud for over a decade, and Galloway may well be on to something here. But before I get into it, let me just describe how we got to this point.
Prior to 2000, if an elector wanted a postal vote, then they had to give a good reason why they could not attend a polling station in person. They may be old, infirm, in the armed forces, or on holiday. However, Tony Blair's government changed the system to allow for postal vote on demand, so no reason was required. Blair's government argued that it would lead to greater engagement in politics. They pointed to the paltry 24% turnout at the 1999 European Elections as proof that something had to change. So, in some ways, it could be argued that some alteration of the system was necessary.
But, as with many political decisions, it has had unintended consequences, and the overriding one has been corruption. Now, I will just name a few: In 2002, Muhammed Hussain, a Blackburn councillor, was prosecuted and jailed for three and a half years after being found guilty of conspiring to defraud local elections. Judge Peter Openshaw said that Hussain's actions were of a scale unknown in Britain for a hundred years; he then exposed the postal-voting system for being "wide open to fraud."
Also on rt.com
Brits face never-ending 'woke' culture wars as American-style divisions on way to take hold in UK, pollster warns
In 2008, Mohammed Choudhary, former Labour Mayor of Peterborough, was jailed for nine months following the uncovering of a postal vote-rigging scam where applications were made for ballot papers to be sent to different addresses.
In 2015, Lutfur Rahman, the Mayor of Tower Hamlets, was removed from office because of a number of irregularities, including ballot tampering and the fact that ballots were double-cast or cast from false addresses. The judge who presided over the Rahman case was Richard Mawrey QC, who himself had previously called for postal voting on demand to be scrapped. He asserted in 2014 that "postal voting on demand, however many safeguards you build into it, is wide open to fraud," making "election rigging a possibility and indeed in some areas a probability".
In 2019, Steve Baker, the Conservative MP for Wycombe, wrote that he had received "accounts of candidates visiting electors' homes, demanding postal votes are completed in front of them, and then taking them away." He rightly concluded that "this simply cannot go on."
The UK prides itself on being a bastion of democracy, yet our main political parties sit by idly whilst that very same democracy is being perverted by the postal-vote system. Why do they do this and why do they refuse to tackle the issue? Well, maybe it is because, possibly, they benefit from it.
Also on rt.com
Personal responsibility should replace 'government telling you what to do' as UK learns to 'live' with Covid-19 – minister
Whenever I challenged postal vote on demand following elections, it was passed off as sour grapes by my opponents. But it was nothing of the sort. My complaints were based on a sense of fair play and on the fact that the current postal vote system has failed to achieve its stated objective, which was to increase voter turnout. For example, the turnout in the 1997 General Election, the last before postal vote on demand, was 71.3%, yet the turnout in the 2019 General Election was down to 67.3%. There is absolutely no legitimate argument for retaining this system, which, as has been shown time and time again, makes it easier to commit fraud.
Now, I suspect George Galloway and I have little common ground politically beyond our support for Brexit and the Union. But if his court case shines a light on the corruption involved in postal voting on demand, then he should be backed by all those who support democracy and fairness.
Like this story? Share it with a friend!
The statements, views and opinions expressed in this column are solely those of the author and do not necessarily represent those of RT.
You can share this story on social media: