At least 1 person killed, 10 injured in partial collapse of residential building in Florida (PHOTOS, VIDEOS)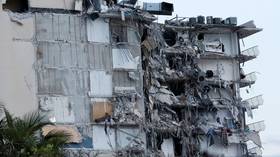 A building partially collapsed Thursday morning on Collins Avenue in Surfside, near Miami, Florida, police and fire services said. At least one person was killed and more injured.
Photos and videos show part of the building reduced to rubbles, with fire crews working at the site.
Surfside Mayor Charles Burkett told the media that at least one person was killed and 10 were hospitalized. "This is a horrific catastrophe. In the United States, buildings just don't fall down," Burkett told CNN.
Earlier media reports said that a 10-year-old boy was among those rescued from the rubble.
Journalist Joel Franco, who is at the scene of the collapse, tweeted that several people have been rescued from the building.
A person who said he was a resident of the first floor of the condo told Franco that he was in the underground garage when the collapse began, and that he quickly fled outside.

"Then were heard some more shaking happening. We started running," the man said.
And all of a sudden, the back of the building starts collapsing. We see nothing but smoke and dust… Visibility was very poor, and we were choking.
According to police, the incident took place at 8777 Collins Avenue, where Champlain Towers South, a 12-floor residential complex, is located. Local media reported that the incident took place around 2am local time.
"On one of these huge buildings – gone, right here beside us," a man said in a video posted on social media. He said he was staying in a hotel next to the collapsed structure. "This is the most insane thing I've ever seen in my life."
The apartment complex was built in 1981 and has more than 130 units, WTVJ TV reported, citing records.
A witness told WPVI-TV that a third of the structure has turned into a pile of rubble. "Like a bomb hit or something and it just completely wiped it out."
Think your friends would be interested? Share this story!
You can share this story on social media: