Suspect in custody after 8-hour-long hostage situation at Wells Fargo bank in Minnesota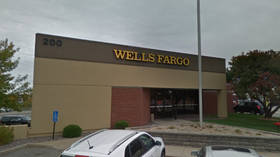 A man who took several bank employees hostage at a Wells Fargo branch in St. Cloud, Minnesota has been brought into custody, following a lengthy eight-hour standoff with police and federal agents.
Officers arrived at the scene around 2pm local time on Thursday, responding to a call about a bank robbery in progress, police Lieutenant Lori Ellering said in a statement, noting at the time that negotiations had begun with the suspect and that FBI agents were assisting local law enforcement.
During the standoff, footage from a local news chopper showed a number of squad cars parked around the bank, as well as what appeared to be a police SWAT team positioned near the building's entrance. Two armored vehicles were also photographed at the scene.
Sky4 is over an ongoing hostage situation at a Wells Fargo branch in St. Cloud. St. Cloud Police say they have not been made aware of any injuries at this time. The FBI is also assisting.We will continue to provide updates. @WCCOpic.twitter.com/KH9hUtYrjn

— Nick Streiff (@nickstreiff) May 6, 2021
At one point during the incident, the hostage taker, who has not been identified, appears to have uploaded a video of himself on social media, in which he is seen directing his captives to negotiate with officers. The clip quickly made the rounds online.
After hours of dialogue with the man, one female hostage was seen exiting the building with her hands up sometime around 6:30pm, as was captured on video by a local news crew. The same media outlet, a CBS affiliate, later published footage of three other hostages as they emerged to safety.
The confrontation stretched on into the night, with officers storming the building and apprehending the suspect around 10:30pm, during which the fifth and final hostage was seen running from the bank, taking a minor fall as he did so. That, too, was caught on video.
Despite the length of the standoff, no injuries among hostages were reported, with St. Cloud police chief Blaire Anderson telling reporters later in the evening that there was a "peaceful resolution, the best possible outcome we could have had." He identified the suspect as Ray Reco McNeary, saying the man was a "disgruntled" bank customer, known to law enforcement after "numerous contacts" with officers over the last ten years, including for violent crimes.
Think your friends would be interested? Share this story!