3 dead, including gunman, in Wisconsin casino shooting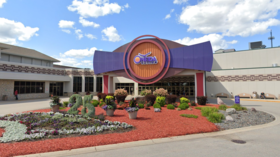 A gunman killed two people and seriously wounded a third at an Oneida Nation casino in Ashwaubenon, Wisconsin, before being neutralized by police who rushed to the scene.
The shooting took place at a casino adjacent to the Radisson Hotel and Conference Center, across from the Green Bay Austin Straubel International Airport, at around 7:30pm on Saturday. The suspect was killed after multiple agencies responded to the incident. No officers were injured.
Investigators believe that the suspect intended to target a specific individual who was not at the casino at the time. Instead, the gunman "decided to still shoot some of the victim's co-workers or friends, it appears," Brown County Sheriff's Lt. Kevin Pawlak told media. It's believed that the shooter may have been an employee of the Oneida casino.
Witnesses told local media that they heard gunshots shortly after arriving at the casino. As they headed back to their car from the parking lot, around 15 more shots were fired off. Moments later, police began pouring into the area.
Attorney General Josh Kaul confirmed that the situation had been "contained" and there is "no longer a threat to the community." Police rerouted some traffic near the airport as they secured the scene.
Police were praised for their fast and effective response to the shooting.
"I am incredibly thankful for the swift action of our law enforcement, who were able to apprehend the shooter quickly," tweeted Wisconsin's 5th Assembly District Rep Jim Steineke.
The casino will remain closed until further notice, Oneida Nation of Wisconsin tweeted.
Think your friends would be interested? Share this story!