'Trumpification of Big Tech': Amazon fires back at Elizabeth Warren suggesting they should be broken up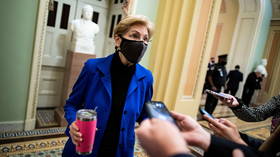 After Senator Elizabeth Warren (D-Massachusetts) accused Amazon of not paying their fair share in taxes and sending "snotty tweets" to "heckle" lawmakers, the company shot back at the "revealing" tweet.
"One of the most powerful politicians in the United States just said she's going to break up an American company so that they can't criticize her anymore," Amazon tweeted in response to an "extraordinary" tweet in which Warren suggested breaking up "Big Tech" so they can't "heckle senators."
The tiff originated from Warren accusing the company of exploiting "loopholes and tax havens to pay close to nothing in taxes."
"You make the tax laws @SenWarren; we just follow them. If you don't like the laws you've created, by all means, change them," Amazon tweeted back at the senator, then breaking down taxes the company generates through sales, as well as jobs provided.
Warren recently suggested a wealth tax that would put more of a tax burden on the US' wealthiest individuals, including Amazon CEO Jeff Bezos, who could be paying billions more in taxes under the new plan.
In their latest attacks, Amazon went on to target Sen. Bernie Sanders (I-Vermont) for showcasing the difference between "talk and action."
"@SenSanders has been a powerful politician in Vermont for 30 years and their min wage is still $11.75. Amazon's is $15, plus great health care from day one. Sanders would rather talk in Alabama than act in Vermont," the company tweeted.
In Saturday tweets seemingly responding to the hit, Sanders praised Alabama Amazon workers for trying to unionize, suggesting it could happen in more states.
Sanders did not directly respond to Amazon's message about the minimum wage – though he has supported a $15 an hour minimum wage.
Many conservatives have praised Amazon's response to Warren on social media, though some have pointed to the company's own history of being accused of censoring right-leaning thinkers, including authors.
Others, however, were quick to defend Warren against the major corporation, labeling the response from Amazon as aggressive and an example of the "Trumpification of Big Tech."
If you like this story, share it with a friend!
You can share this story on social media: