#ChickenJoe trends on Twitter after Biden avoids debate with Putin following 'killer' accusation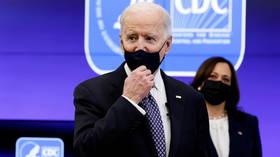 US President Joe Biden has landed in the deep fryer after bragging he called out Vladimir Putin for having "no soul" – a claim that led many to cry foul when the politician refused to talk to his Russian counterpart on the phone.
Despite Biden's apparent comfort in trash-talking the Russian president with ABC host George Stephanopoulos in the comfort of the network's studios on Thursday, the American leader became suddenly elusive when Putin offered him a chance to air his grievances in a live debate.
Also on rt.com
Biden thinks he's a tough-talking cowboy in a Western, so he should solve his differences with Putin by drawing guns at high noon
Indeed, Biden's about-face was so quick – and so uncharacteristic for a man who was supposedly willing to call out the leader of one of the US' chief geostrategic rivals as a soulless "killer" – that many of Biden's detractors suggested the man had gotten cold feet, afraid of what Putin might do to him.
Biden was "scared" of Putin, critics jeered, dubbing the Democrat #ChickenJoe.
Critics of the president were quick to lob other insults at the Capon-in-Chief, skewering everything from his handling of the border crisis…
… to the kind of empty tough-guy talk that got him into the #ChickenJoe situation to begin with.
One widely followed pro-Trump user repeatedly urged his followers to flog the hashtag, at one point raising it to the number two trend in the US.
Biden fans did their best to flip the hashtag into a favorable trend for the president, even when it meant trotting out memes about the now-debunked "Russian bounties" claim, wheeling out paid shills for the Democratic Party, or generic Russia-blaming.
A few Democrats attempted to take the high road, however, urging their enemies to embrace their president, "right or wrong," out of a sense of patriotism.
Think your friends would be interested? Share this story!
You can share this story on social media: