Fireworks stash explodes, killing 2 & shaking entire neighborhood in Ontario, California (VIDEOS)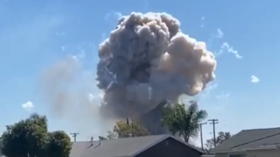 An enormous explosion has shaken the city of Ontario, California, sending a mushroom-shaped cloud towering above the streets. Officials say a fireworks stash ignited, killing at least two people.
The blast was reported on Tuesday afternoon, with one resident capturing it on video. A cloud of smoke spewed into the air above a residential area of the city, with a series of subsequent cracks and booms leading the resident to suggest that "someone's firework stack went off."
Another local said he "thought an earthquake was going to start," while one passing motorist caught a street-level look at the explosion, which he said sounded like a "fireworks factory" burning down.
One video clip shot just yards away from the explosion shows bright flames at the base of the smoke column, as crackling fireworks shoot out of a burning structure.
The blast originated at a residential house, city officials said shortly afterwards, and was caused by a "large amount of fireworks" igniting, which triggered a structure fire. The public has been asked to avoid the area.
Two victims who died in the blast have not yet been identified. One animal, a horse, had a lucky escape, and firefighters could be seen picking through debris to come to its aid and dislodge it from between a tree and a wall.
Think your friends would be interested? Share this story!
You can share this story on social media: