WATCH: SpaceX Starship prototype EXPLODES after 'mostly successful' test flight & touchdown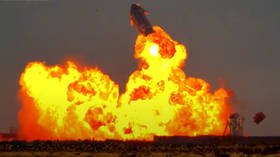 SpaceX's SN10 Starship prototype has made a largely successful test flight, soaring some 10km high and performing a shaky upright landing, though a small fire was seen upon touchdown before the craft erupted in a fiery explosion.
While the flight initially appeared to be successful, seeing the Starship soar some 10 kilometers high and make a flip maneuver before touching down softly – it was visibly leaning upon landing and a small fire was seen at its base.
Minutes later, however, the craft was blown to pieces, lifting it into the air and emitting a massive fireball.
RIP SN10, honorable discharge

— Elon Musk (@elonmusk) March 4, 2021
While it remains unclear what caused the failure, a launch attempt earlier on Wednesday was aborted with less than one second on the clock before liftoff, seeing the Starship's engines ignite briefly before the trial was temporarily halted. SpaceX CEO Elon Musk said the abort was triggered automatically due to an issue with the rocket's "thrust limit," adding that it had been addressed and that the company would make another attempt.
The SN10's predecessors, the SN8 and SN9, both met similarly explosive ends while attempting vertical landings during previous test flights. According to SpaceX, the upright landing capability "will enable a fully reusable transportation system designed to carry both crew and cargo on long-duration," including for "interplanetary flights" and "travel to Mars and beyond."
Also on rt.com
WATCH: SpaceX Starship high-altitude test flight aborted at LAST MOMENT on launch pad
Think your friends would be interested? Share this story!
You can share this story on social media: