Top dog! Trump's triumphant Florida comeback speech makes it clear he's still the leader of the GOP pack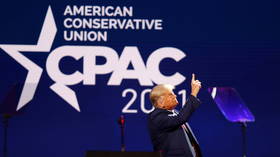 Critics predicted there'd be a Republican civil war at last weekend's CPAC conference, as never-Trumpers sought to wrest control of the party from the ex-president. But there was no fight – and only one winner.
Since the inauguration of Joe Biden and the events that transpired in our nation's capital on January 6, there has been an apparent divide and deep question plaguing the Republican Party: who is the top dog in charge of the GOP?
Last weekend, at the annual Conservative Political Action Conference (CPAC) which was held in Orlando, Florida, President Donald J. Trump gave his first public remarks since leaving the White House. He addressed a packed room filled with top Republican elected officials, grassroots operatives, and conservatives of all ages. They flew into the Sunshine State from all around the country, some just to see and hear from the de-platformed former leader of the free world, and 45th President of the United States in the flesh.
His speech was classic Donald Trump, hitting all the same America First notes, reminding Americans of his promises made and promises kept while verbally flaying his political enemies, the media, Democrats and members of Congress who opposed his claims of election interference and rampant voter fraud. If you took an accurate temperature reading of the room and those watching from home, Trump, with his sheer presence and fiery rhetoric, reaffirmed on that stage that he and he alone, was, is and will continue to be the leader of the Grand Old Party.
"Miss me yet?" Trump teased the thousands of cheering supporters, 38 days after leaving the White House. "I stand before you today to declare that the incredible journey we began together... is far from over."
It has become increasingly evident since January 6 that there is an internal war raging among the Never Trumpers, who are peddling the narrative that Trump is a cancer on the Republican brand, mortally wounded politically, and should never again have a say in the direction of the party.
They are still up against the Trump loyalists who make up the majority of his base and the 75 million Americans who voted for him last November. These supporters believe that the former president's political wounds are not life threatening; on the contrary, they insist that they are mere flesh wounds that will heal and be added to his other battle scars. They are betting on Trump and predict that he will rise up from the political ashes like a phoenix to lead the party in 2022 and beyond.
During the second impeachment trial, seven Republicans voted to convict Trump, with Minority leader Kevin McCarthy and Senate leader Mitch McConnell publicly condemning Trump's role on January 6, sparking outrage from his base and calls for the creation of a third party.
While President Trump certainly has the following and popularity to create a third party, one of the biggest takeaways from his speech is that he has no interest in abandoning the GOP or building a rival party which would only divide Republican voters and ensure Democrat victories forever.
One only has to look back in history 28 years ago to find a modern day example of how a third party split Republican voters in a presidential election. In 1992, Ross Perot threw his hat in the ring and ran as an Independent and laid the foundation for the formation of the Reform Party in 1995. He secured close to 19 percent of the vote, which arguably would have gone to the sitting president, George H.W. Bush. Perot received the highest percentage of any third-party candidate in a US presidential election in 80 years, without receiving one single electoral vote. This cost Bush his re-election, and catapulted Democrat Bill Clinton into the White House, winning the electoral college 370-168. Perot's third party candidacy forever changed the dynamic of presidential campaigns and politics after it signaled to disaffected Republicans that they could be disruptors in the traditional two party system by voting for an Independent or popular third party candidate.
President Trump last weekend conveyed his strong understanding of the dangers of creating a third party that would primarily be made up of his political base. Instead, he expressed his hope that all Republicans would "unite and be stronger than ever before" for the sake of taking back the House and the Senate.
Also on rt.com
Americans more concerned with violent protests in US cities than Capitol riot, more certain pro-Trump rioters get convicted – poll
"I am not starting a new party. That was fake news, fake news," he said.
While Trump teased out the idea of a 2024 presidential run on the Republican Party ticket, his speech achieved the larger goal of staking his claim as the GOP leader, while striking fear into the hearts of those Republicans who have since condemned him or worked to push him out of the party.
Through his speech, President Trump brilliantly tethered himself to the success or failure of a sitting member of Congress and any candidate in the future running under the banner of the GOP. He predicted that any Republicans who go against him will meet resistance, be voted out of office and be replaced by America First, pro-Trump candidates who he pledged to support in 2022 and 2024.
There is no way to know for certain whether or not Trump will seek re-election in 2024, or whether or not he simply wishes to be a Republican kingmaker, but his flirtation with the idea of a third presidential run was a clear shot across the bow to the party leadership, letting everyone know he is in charge, and that his endorsement is the most sought "political asset" in politics if a candidate wishes to win.
During his speech, President Trump was quick to reinforce his endorsement record: "It has just been stated that President Trump's endorsement is the most powerful asset in politics. In last year's congressional primaries,120 of 122 candidates I endorsed won. 120. And the two that lost were beaten by people claiming to be more Trump than their opponent. In the Senate, I was undefeated in endorsements with a record of 21 and 0."
It must be said that Trump's proclamation that nearly every candidate he endorses in 2022 will win is a gamble, and one that his potential third presidential run will be dependent on. If the majority of the candidates endorsed by Trump in 2022 do not win their races, his kingmaker status will be diminished and confidence in a 2024 revival of his presidential ambitions will be in jeopardy.
By promising to support America First, MAGA candidates and to work to defeat Republicans who have expressed their wishes to hit a reset button and exclude Trump from all party discussions, the former president put internal opponents like Congresswoman Liz Cheyney, who is currently serving as the House Republican Conference Chair, the third-highest position in the House Republican leadership, on notice.
As reported by Politico, "Nearly three-quarters of GOP voters and more than 60 percent of all voters in Cheney's home state of Wyoming now have an unfavorable view of the congresswoman, according to a Jan. 25-26 study by Trump pollster John McLaughlin. McLaughlin goes on to say that 'Liz Cheney's decision to vote to impeach President Trump makes her extremely vulnerable…It is evident her ratings are in bad shape among general election voters and have collapsed among Republicans and Trump voters.'"
The takeaway from this poll is a reminder to all conservatives that the GOP leadership cannot turn back the clock. It is no longer your grandpa's Grand Old Party anymore. The Republican Party is now reliant on the Trump base if it intends to successfully compete against the Democrats and flip the House and Senate in 2022. The base is firmly behind Trump, and without him the Republican Party shrinks. If the party and individual candidates wish to succeed and win elections in the future, they must fully embrace Trump and his base.
2021 is certainly shaping up to be an interesting year as we enter a new political age. There are no more campaign cycles of two, four or six years: it's become one continuous campaign whereby each party must defend its turf, its positions, its decisions and its actions in order to secure the hearts and minds of voters every single day. President Trump understands this.
However, he has made a serious bet with the American people, but more specifically the Republican voter, that if they remain committed to his leadership and refuse to follow the old guard, he will use the power of his brand and his political capital to ensure that the GOP wins back the legislative majority in two years. This is huge, because the outcome of the 2022 midterm elections will determine if Trump can remain the top dog in charge of the party.
Think your friends would be interested? Share this story!
The statements, views and opinions expressed in this column are solely those of the author and do not necessarily represent those of RT.
You can share this story on social media: