#BidenLied tops Twitter trends as president's loyalists try to hijack hashtag to switch conversation from disappointment to Trump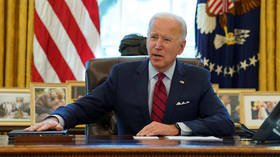 Joe Biden has been slammed from both left and right for not fulfilling at least one campaign promise, getting #BidenLied trending, triggering his supporters to try and hijack the hashtag to distract from the criticism.
After decades in politics, Biden being accused of lying to the public by critics is nothing new, but his first days as president have even some supporters questioning his honesty.
As numerous liberals called out Biden for his $1.9 trillion Covid-19 stimulus plan offering $1400 direct payments to Americans when he actually promised $2000 "immediately" after taking office (though he's attempted to explain the discrepancy through some questionable math), conservatives and other critics jumped on the bandwagon and got #BidenLied trending on Twitter.
Conservatives used the hashtag to point out other controversial positions from Biden's past.
Biden loyalists were clearly triggered by the wave of hate headed toward the president and desperately tried hijacking the hashtag to keep criticism from flooding users' timelines.
Some leaned on the Donald Trump crutch and called out the former president as a liar and raged against conservatives jumping on the hashtag.
Also on rt.com
'You got conned': Regretful Democrat volunteers cope with disappointment after Biden turns out to have misled about $2,000 checks
"Donald Trump lied 30,573 times in office according to the Washington Post and the GOP didn't care about a single one of them, yet it took Republicans only 10 days of Biden being in office for them to get #BidenLied and their grotesque hypocritical fake outrage trending on Twitter," liberal author Seth Abramson tweeted.
"Donald Trump incited unhinged racist gun nuts to assault the Capitol and murder members of Congress, simply because he can't admit he lost an election. Go on with your #BidenLied garbage," author John Pavlovitz added.
Others took a different approach and added the hashtag to random tweets expressing fandom or just pictures of their pets and other animals.
Like this story? Share it with a friend!
You can share this story on social media: