Train carrying crude oil derails & catches fire, triggering evacuations in Custer, Washington (PHOTOS, VIDEO)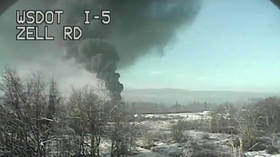 Residents in Whatcom County, Washington have been ordered to evacuate after a train carrying a load of crude oil derailed and caught fire, with local authorities clearing anyone within a half-mile of the crash site.
The derailment late on Tuesday morning involved three to five cars, the BNSF railway said in a statement on Twitter, adding that there were reports of a fire near the end of the vehicle and that emergency response crews were working to "assess and mitigate the situation."
The evacuation was also announced online by a public relations officer for the Washington State Patrol, who urged all "residents and visitors" to leave the immediate area around the tanker. The evacuation zone includes an elementary school, a church and multiple businesses.
A thick plume of black smoke was seen billowing from the crash site in footage published by a local reporter.
Images captured closer-up showed flames around the tanker, though the extent of the blaze is not clear from the photo.
The pillar of smoke could also be seen in satellite imagery shared by local meteorologist Morgan Palmer, who noted that surface winds in the area are "fairly calm."
It has not yet been determined what caused the accident, and no injuries have been reported as of yet. The crash took place in Custer, a small town with a population fewer than 400 located just miles from the US-Canada border.
Think your friends would be interested? Share this story!
You can share this story on social media: