'They'll wish we edited them': RAW tapes of CNN calls coming every day through Christmas, Project Veritas tells RT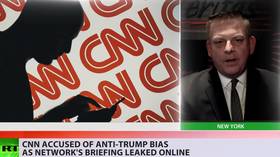 Conservative undercover journalists at Project Veritas will keep releasing daily raw, unedited recordings of CNN conference calls they've been secretly taping for months, their spokesman Neil McCabe revealed to RT.
Veritas is planning to parallel the "advent calendar," McCabe told RT on Thursday, releasing one or two raw recordings every day from Friday through Christmas.
"They're going to wish that we had edited their meetings!" he said, in a reference to the frequent gripe of organizations on the receiving end of Veritas recordings that they are "selectively edited."
Also on rt.com
'This may be a felony': CNN calls POLICE as Project Veritas leaks audio of outlet's daily briefings with president Jeff Zucker
The organization has already released several recordings of internal CNN conference calls since Monday, when founder James O'Keefe revealed that Veritas had been secretly listening in on them for months.
CNN has responded by saying they reported Veritas to the authorities for possible illegal activity, while defending the content of the tapes as "diversity of opinion" that makes the outlet strong.
Speaking with RT on Thursday, McCabe laughed at the qualification.
"I've been on these calls. There's no diversity of opinion. No one objects. No one challenges," he said. The only time anyone spoke up, he said, it was to denounce O'Keefe when he called in to reveal the sting.
Also on rt.com
CNN demands apology from Tucker Carlson for allegedly misreporting Project Veritas leaks – but the facts tell a different story
The point of the releases so far wasn't to show there is partisan bias at CNN, McCabe said, but that what they consider news is based entirely on whether it fits CNN President Jeff Zucker's "worldview and personal agenda."
The bias at CNN is not liberal, conservative or anything like that, "it's 'do you agree with Jeff Zucker' or not," McCabe said.
You never hear people correcting Jeff Zucker, he's dictating the news.
He also brushed off CNN's statements about calling the police as a public relations stunt. No one from law enforcement has reached out to Veritas, McCabe told RT. "I don't believe for a minute the police will come knocking at our door. Everything Project Veritas does is legal."
Think your friends would be interested? Share this story!
You can share this story on social media: