Kenosha teen shooter Kyle Rittenhouse released from jail on $2mn bond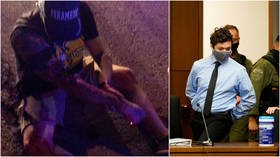 The 17-year-old accused of killing two people amid unrest in Kenosha, Wisconsin last summer – Kyle Rittenhouse – has been released from custody after paying a $2 million cash bond. He faces charges of first-degree murder.
Rittenhouse, an Illinois native, posted bond through his attorney on Friday afternoon, a spokesperson for the Kenosha County Sheriff's Department confirmed to local media, noting that he has since left the county jail.
The teen is accused of fatally shooting two people and injuring a third during heated anti-police brutality demonstrations in Kenosha last August sparked by the killing of Jacob Blake. Over several days, the protests spiraled into serious unrest, seeing riots, looting and arson.
Rittenhouse maintains that he was attacked while defending a business from theft and vandalism and fired his AR-15 in self-defense, but was nonetheless charged with six counts, including reckless and intentional homicide in the first-degree, use of a dangerous weapon and reckless endangerment.
In his first interview since the incident, Rittenhouse told the Washington Post that he felt he needed to protect himself and didn't regret bringing a rifle to the August 25 protest, adding "I would have died that night if I didn't."
Also on rt.com
Teenage gunman who killed two people at Kenosha riots to be extradited to Wisconsin to face homicide trial
The shootings were captured in numerous videos and livestreams, stoking intense debate online that took on a political dimension, with critics slamming the teen as a violent "white supremacist" who was given preferential treatment by police. Supporters, meanwhile, insist he acted in self-defense, pointing to footage that appears to show Rittenhouse being chased by the individuals he allegedly shot.
Following Rittenhouse's extradition from his hometown of Antioch, Illinois – which sits on the state border about 20 miles from Kenosha – his bond was set for $2 million earlier this month, with Kenosha County Circuit Court Commissioner Loren Keating deeming the youth a flight risk. The next preliminary hearing for his homicide trial is set for December 3, according to court records.
Think your friends would be interested? Share this story!
You can share this story on social media: