8 injured after shooter opens fire inside Wauwatosa, Wisconsin shopping mall, suspect at large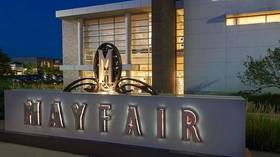 Dozens of police vehicles and several ambulances were dispatched to the Mayfair Mall in Wauwatosa, just west of Milwaukee, Wisconsin, after a gunman opened fire and injured eight people, including a teenager.
Wauwatosa Chief of Police Barry Weber confirmed that eight people were injured in the incident on Friday, but noted that their current status is unknown.
"Everybody was alive at that time... so there's not been any fatalities that I'm aware of," he said during a brief press conference.
The suspect has yet to be identified by police, Weber went on, but said he is believed to be a white male in his 20s or 30s, calling on the public for any information that would help the investigation. The chief was asked about the shooter's whereabouts and whether he remained holed up in the mall, but Weber replied "We don't know that."
Footage from the Mayfair Mall showed a swarm of police and vehicles responding to the shooting on Friday afternoon. Some 75 officers were dispatched to the mall as shoppers were evacuated through the Macy's department store.
People could be seen being loaded on stretchers into ambulances amid the bustling police presence.
The roads surrounding the mall were closed off for what police called an "emergency incident."
A woman inside the Macy's store told WISN-TV that she heard between 8 and 12 gunshots. Another witness said she saw "a group of kids just running out of the mall."
Think your friends would be interested? Share this story!
You can share this story on social media: