WATCH: Mobs harass Trump supporters, shoot fireworks & torch MAGA merch after massive rally in Washington, DC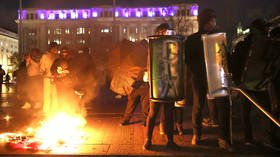 Following a huge pro-Trump rally in Washington, DC, lone activists heading away were attacked, harassed, pelted with fireworks, and doused with unidentified liquid, as police seemed incapable of responding to numerous incidents.
READ MORE: Trump slams 'Antifa SCUM' for waiting until nightfall to attack remaining 'innocent MAGA people' when 99% left DC march
Saturday's event, dubbed the #MillionMAGAMarch and attended by thousands of people, passed off relatively peacefully, and was only marred by sporadic scuffles between the right-wing Proud Boys and leftist Antifa, which were swiftly quelled by DC police.
However, as the pro-Trump event winded down later in the day and MAGA supporters started to disperse, 'counter-protesters' turned increasingly violent and were seen chasing, attacking and harassing lone activists as police apparently struggled to respond to multiple incidents happening all at once.
Several videos shared online show a black-clad mob throwing projectiles and shooting fireworks at Trump supporters as they dined at restaurants in downtown DC.
Another group of 'peaceful' counter-protesters allegedly ransacked a stand with MAGA merchandise, and were seen torching a pile of hats and flags in the vicinity of so-called BLM Plaza.
Several other videos showed conservative activists trying to walk away as mobs followed them, intimidating and dousing Trump supporters with unidentified liquids.
While police were present in the streets in big numbers, witnesses decried their slow response to the volatile situation.
One Trump supporter was brutally knocked down from behind and repeatedly kicked while lying on the asphalt – but in that case at least police reportedly arrested the perpetrators.
Apart from larger groups harassing individuals, there were also clashes between more equal opponents.
Following their clashes earlier in the day, an "all-out brawl" between the Proud Boys and Antifa was reported, with the opposing sides using shields, sticks and batons in a "full melee" in the streets of DC on Saturday evening.
Think your friends would be interested? Share this story!
You can share this story on social media: