Too tough a punishment? Twitter reacts to New Yorker magazine sacking Jeffrey Toobin after Zoom masturbation fiasco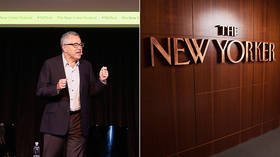 The New Yorker has fired star reporter Jeffrey Toobin, who had been suspended for masturbating during a Zoom work call. Twitter reactions include both condolences and approval, as well as some not-so-veiled mockery.
Toobin, 60, said on Wednesday that he was fired after 27 years as a New Yorker writer. "I will always love the magazine, will miss my colleagues, and will look forward to reading their work," he tweeted.
The magazine suspended Toobin last month after a Zoom conference call with co-workers during which Toobin exposed his genitalia after an apparent masturbation session. The man said he thought he had "muted the Zoom video" and acknowledged making an "embarrassingly stupid mistake."
The incident happened in mid-October when the New Yorker and WNYC radio were simulating coverage of the then-upcoming presidential election. Toobin reportedly switched to a different video during a break in the proceedings before pleasuring himself.
CNN, which has employed Toobin as a senior legal analyst since 2002, still has him on suspension.
Many people have expressed their sympathy, saying his misstep seemed mild enough, especially measured against those that a certain US president has been accused of.
Others appeared to be somewhat less sincere.
Donald Trump Jr. seemed to gloat at the demise of Toobin, a vocal critic of his president father.
And of course there are those on Twitter who are outraged at people who don't support Toobin's termination.
Also on rt.com
#MeToobin trends on Twitter as CNN legal analyst enters the pantless pantheon, after 'jerking off' on Zoom call
Like this story? Share it with a friend!
You can share this story on social media: