Nobody's getting nuked: Pentagon says 'doomsday flights' following Trump Covid-19 test were 'pre-planned' after Twitter hysteria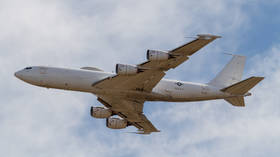 The Pentagon has clarified that two overnight 'doomsday plane' flights off the US' east and west coasts were pre-planned and had no connection to Donald Trump testing positive for Covid-19, despite plenty of online speculation.
"These are preplanned flights and the timing is coincidental," a US Strategic Command (STRATCOM) spokesperson told the Washington Times about the two E-6B Mercury planes, which took off roughly around the time Trump revealed his test results on Thursday night.
The aircraft are nicknamed "doomsday planes" since they are essentially mobile command posts for American nuclear-capable submarines.
The planes were observed by Tim Hogan, an open-source intelligence practitioner who tracks such flights. He speculated about their potential meaning in rather dramatic fashion after Trump tweeted that he was being tested, but before he announced the positive results.
Responding to a commenter who asked about their significance, Hogan noted that the E-6B Mercury is "the plane that has the ability to order the killing of everyone on earth." He also speculated that the flights were intended as a "message" to US adversaries in light of the president falling ill.
Other commenters joined Hogan in opining that the doomsday flights were indeed a "huge public flex to the world" and a warning that "everyone gets nuked" if an enemy attacks.
Not only did the US Department of Defense debunk these theories, they also fell apart in the context of other recent flight data. According to Christiaan Triebert, visual investigator for the New York Times, Boeing E-6B Mercury aircraft are regularly in the air – and were flying "almost daily" for the past month, rendering the spectre of impending nuclear annihilation somewhat unlikely for now.
Also on rt.com
President Trump says he & first lady tested positive for coronavirus after top aide infected on campaign trail
Think your friends would be interested? Share this story!
You can share this story on social media: