DNI Ratcliffe shares 2016 RUSSIAN intel assessment, claiming Clinton made up Russiagate to attack Trump - Democrats outraged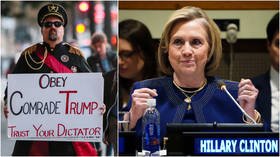 Russian intel alleged that Hillary Clinton backed a plan in 2016 to tie Donald Trump to Vladimir Putin in an election-hacking conspiracy, according to new letter from DNI John Ratcliffe, which Democrats have dismissed as a smear.
Editor's note: The text has been amended to show more clearly that claims about Hillary Clinton's campaign plans against Donald Trump "may reflect exaggeration or fabrication" on the part of Russian intelligence, as is stated in the Ratcliffe letter. It has also been updated to include a subsequent exchange between Comey and Graham, as well as Ratcliffe's insistence that such allegations are "not Russian disinformation" and have "not been assessed as such by the intelligence community."
US intelligence agencies learned in July 2016 of the assessment by their counterparts in Moscow, according to newly declassified information released by US Director of National Intelligence John Ratcliffe. He stressed that the US intelligence community doesn't know whether the allegation was true or the extent to which Russian intelligence analysis "may reflect exaggeration or fabrication."
According to Moscow's purported assessment, Clinton approved an adviser's proposal to "vilify Donald Trump by stirring up a scandal claiming interference by Russian security services," Ratcliffe said in a letter to US Senate Judiciary Committee Chairman Lindsey Graham, who had requested information related to the FBI's Crossfire Hurricane (i.e. Russiagate) probe.
Although US officials still haven't determined whether Clinton actually green-lighted such a plan, handwritten notes taken by then-CIA Director John Brennan showed that he followed up the assessment by briefing then-President Barack Obama on the matter, Ratcliffe said.
US intelligence officials took another step in September 2016, forwarding an investigative referral to then-FBI Director James Comey and Deputy Assistant Director of Counterintelligence Peter Strzok with the heading 'US presidential candidate Hillary Clinton's approval of a plan concerning US presidential candidate Donald Trump and Russian hackers hampering US elections as a means of distracting the public from her use of a private email server'.
Comey told Graham in a Senate hearing that he didn't recall getting the referral. "That doesn't ring a bell with me," he said. Graham had sought to know whether the FBI investigated the unverified allegations against Clinton as it had probed the unverified Russiagate allegations against Trump – and "if not, why not."
READ MORE: 'They were trying to do a coup!': Trump says after FBI docs reveal agents bought liability insurance during Flynn probe
Ratcliffe's public release of the information drew outrage from Democrats, including Rachel Cohen, a staffer for Senator Mark Warner who said Ratcliffe and Graham were laundering "Russian disinformation."
Ratcliffe responded with a statement, saying, "To be clear, this is not Russian disinformation and has not been assessed as such by the intelligence community."
The release made a splash among the president's supporters and other Russiagate skeptics, one of whom observed that the timing of the events described in the declassified material dovetailed seamlessly with the timetable in which Russiagate was unveiled to the public. Clinton staffer Robby Mook appeared on CNN on July 24, 2016 to claim that "Russian state actors broke into the [Democratic National Committee]" and "stole" the campaign's emails "for the purpose of actually helping Donald Trump."
Former British intelligence agent Christopher Steele filed his report around the same date, accusing the Trump campaign of colluding with Russian security services to hack the DNC and dump the emails via WikiLeaks. The unverified and partially discredited information that made up the infamous "peepee dossier" – collected under contract from opposition research firm Fusion GPS – was used to justify securing a FISA warrant for Trump campaign aide Carter Page. That warrant, and others that followed, have since been declared invalid, as it was discovered the Obama administration had "violated its duty of candor" on its application for every warrant.
Also on rt.com
FBI used Steele Dossier to spy on Trump, KNOWING its primary sub-source was a suspected 'Russian agent,' DOJ reveals
Just a month before the 2016 election, Obama's intelligence agencies announced that they believed Russia was responsible for hacking the DNC, setting up the four-year legal battle that will not resolve itself until the next US presidential term.
You can share this story on social media: