WATCH: BLM protesters prepare riot shields & 'ABOLISH POLICE' signs following Breonna Taylor charges announcement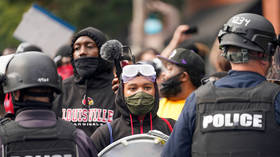 Following news that an officer is facing three counts of "first degree wanton endangerment" over the raid in which 26-year old Breonna Taylor was killed, protesters took to the streets of Louisville, prepared for a riot.
Louisville, Kentucky has seen months of protests over the fatal shooting of Taylor in March, which escalated following the death of George Floyd in Minneapolis two months later.
While many wanted the officers involved in the raid that claimed Taylor's life to face murder charges, Kentucky Attorney-General Daniel Cameron announced on Wednesday that former officer Brett Hankison will face three charges of "wanton endangerment." The other two officers weren't indicted.
Many have taken to social media to express outrage over the decision.
With the National Guard already activated and the police department on high alert, deploying vehicles and creating roadblocks in anticipation of public outrage and reaction, video shows demonstrators taking to the streets moments after Cameron's announcement.
One video even shows protesters flocking to a parking lot where a waiting U-Haul truck is stocked with prepared "abolish the police" signs and riot shields, which were quickly handed out.
The footage has critics questioning the nature of the protests and claiming that riots which have afflicted cities across the country for months are "well-coordinated" and "prepared."
Hundreds of protesters are now on the streets in Louisville, marching and blocking intersections and roads, with cars being turned around by police.
Some protesters have even taken to taunting police officers and shaming people outside, but not participating in the march.
"Get out y'all motherf**kin' houses, this s**t ain't for spectating, this s**t ain't for show!" one woman participating can be heard yelling at people outside their homes.
Another video shows protesters blocking an intersection and chanting "burn it down!"
Other video shows demonstrators destroying the outdoor patio to a restaurant in the middle of their protest.
Cameron justified the charges in his announcement by revealing the officers were not serving a "no knock" drug warrant, as was previously reported, and had announced themselves before Taylor's boyfriend began firing at them.
The attorney general also warned citizens about rioting following the announcement, saying: "Peaceful protests are your right as an American citizen, instigating violence and destruction are not."
Also on rt.com
Louisville braces for riots: One officer charged for 'endangerment,' not murder in Breonna Taylor case
If you like this story, share it with a friend!