#Restorethe4th: Anti-NSA protest LIVE UPDATES
Protests against the American government's surveillance of Internet activity have taken place all over the US. Hundreds gathered in such big cities as New York and Washington. All in all, the rallies took place in over 100 cities.
Other cities included Chicago, San Francisco, Los Angeles, Boston, and Houston.

"Restore the Fourth", the name of the protest, is a reference to the U.S. Constitution's Fourth Amendment, which protects citizens against unlawful search and seizure.

The online community willingly joined the rally on the Internet, with websites like Reddit and Mozilla supporting the cause.

The 'Restore the Fourth' campaign was born on Reddit last month and is being supported by Mozilla, the Freedom of the Press Foundation, and other US and international press freedom organizations.


"The purpose of the rallies is to spread awareness of and spur political action against unconstitutional spying by the U.S. government," the campaign stated on its official website.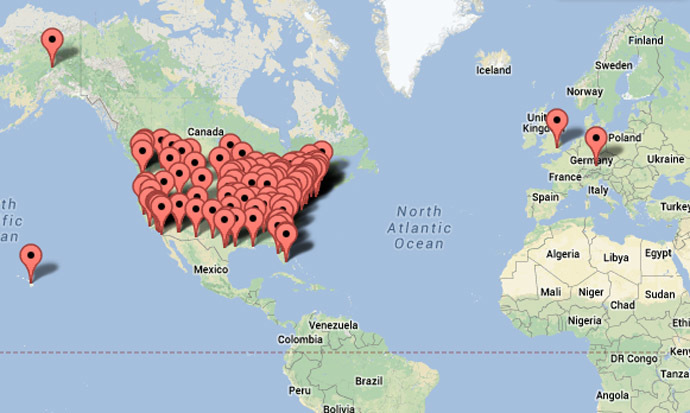 01:15 GMT: Around 2,000 protesters joined the New York City rally, 'Restore the 4th' organizer Tim Colella told RT.
#Restorethe4th New York City: pic.twitter.com/VwTXIMJWZf#YAN#YAL -- Photo by @TimKarr (use w/attribution)

— Anonymous (@YourAnonNews) July 5, 2013
May the #Fourth be with you. #RestoreThe4thpic.twitter.com/GESaXUkB5P

— RestoreThe4thSF (@RestoreThe4thSF) July 5, 2013
23:21 GMT: Over 300 people have gathered for Restore the Fourth rally in San Diego.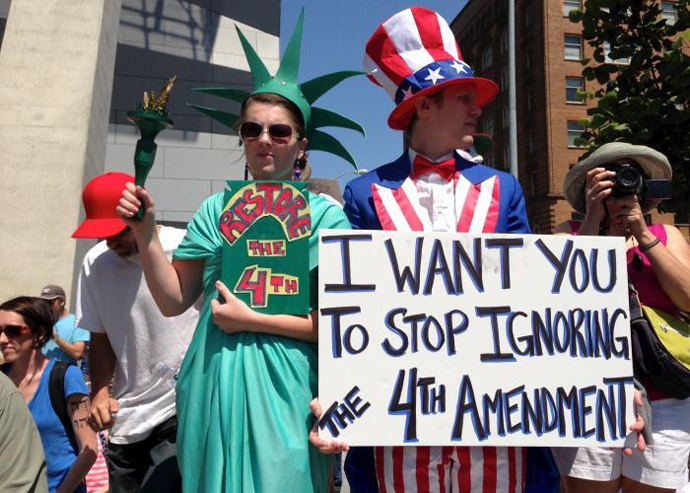 23:05 GMT:
PIC: Restore the Fourth protest reaches Federal Hall in Manhattan. #RTFNYC#Restorethe4th#NSApic.twitter.com/EMrwOUFrNC

— TimKarr (@TimKarr) July 4, 2013
22:03 GMT:
#Restorethe4th because privacy is an illusion no one can buy into anymore. #Anonymous#DTLA#YALpic.twitter.com/GaNDFC5VfY

— ~✿~I'm Pouting~✿~ (@NicolePowers) July 4, 2013
20:57 GMT:
DC #Restorethe4th rally was inspiring! Great speeches from @codepink , @Thomas_Drake1, @DemandProgress. Also, a pic. pic.twitter.com/zTVN6kBv6q

— Rebecca1KS (@Rebecca1KS) July 4, 2013
20:18 GMT:
Many former Obama supporters/donors at NYC #restorethe4th rally voicing disappointment w/ Pres who promised changed pic.twitter.com/tkbnBQJvwm

— marina portnaya (@portnayanyc) July 4, 2013
20:05 GMT:
The people have occupied the Federal Hall, using peoples Mic to let Big Brother know he's not welcome! #restorethe4thpic.twitter.com/w1JAtQxrRg

— Occupy Wall Street (@OccupyWallStNYC) July 4, 2013
19:35 GMT: Around 500 people met up in New York City's Union Square to listen to privacy advocates and civil liberties groups discuss Fourth Amendment rights, CNET reported.

19:25 GMT: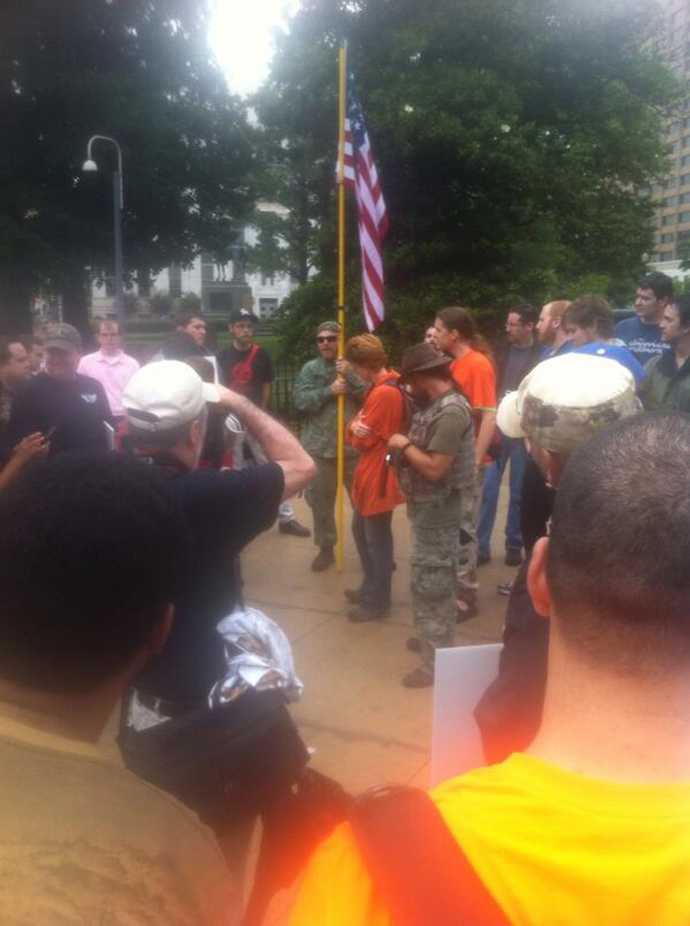 19:15 GMT: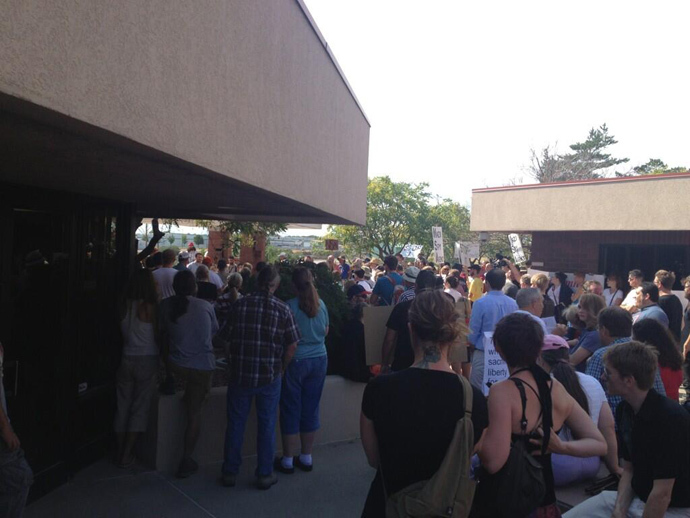 19:02 GMT: Demonstrators rallied at the Utah Veterans Memorial Park on Thursday, protesting against the NSA's $1.5 billion Utah Data Center, believing it to be an example of the government's trampling on Fourth Amendment rights, The Salt Lake Tribune reported.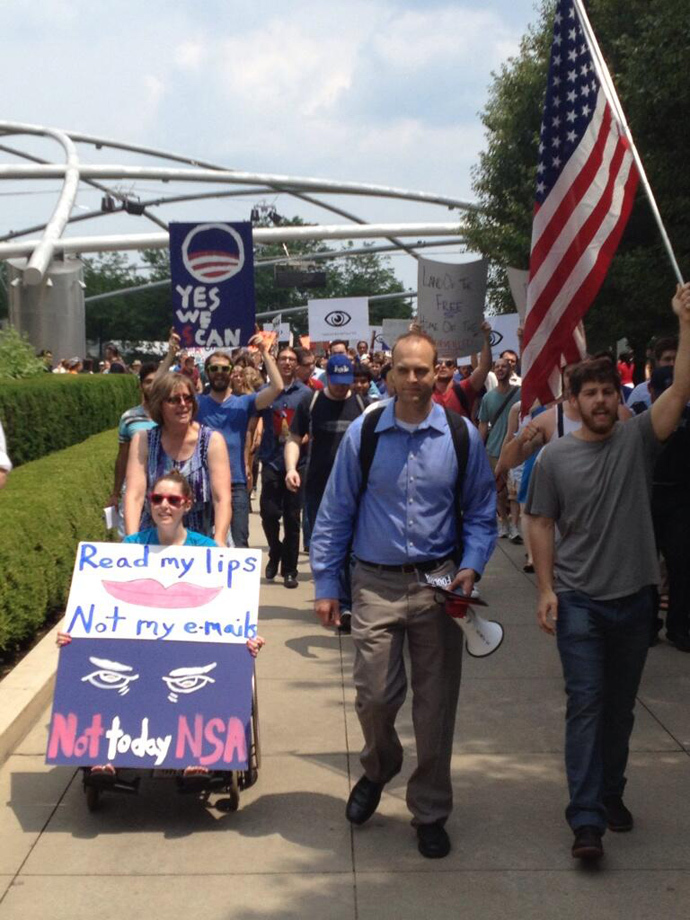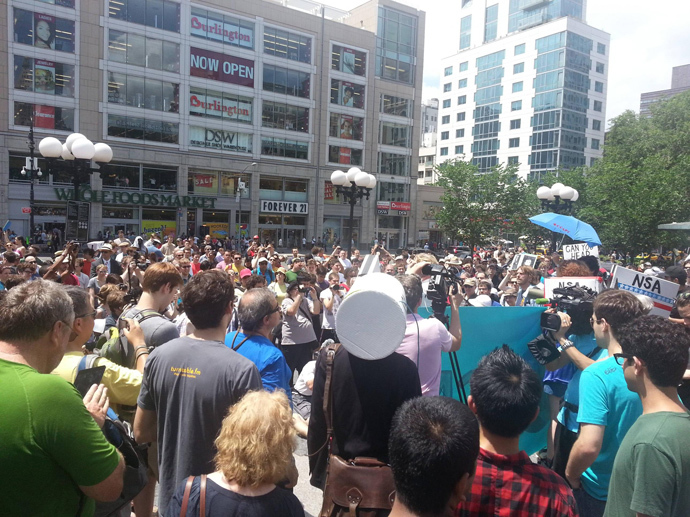 18:49 GMT: Restore the Fourth organizers say that by early afternoon, crowds of more than 400 had gathered in New York City and Washington, D.C. They expect the turnout to be more than 10,000 nationwide.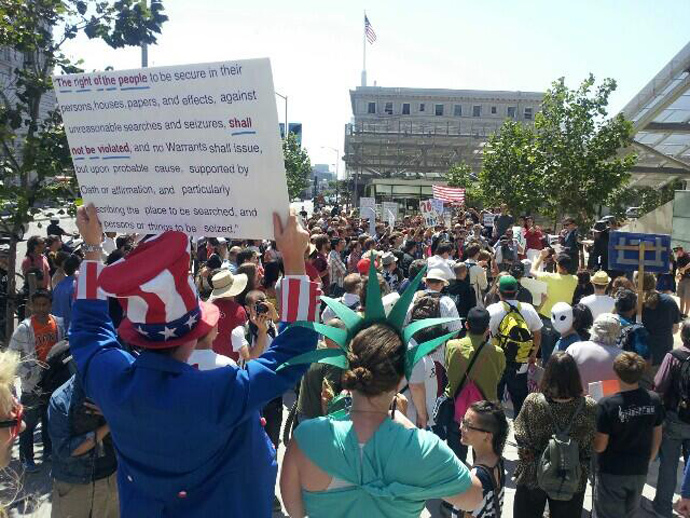 18:45 GMT:The website Boing Boing displayed the following message to the NSA:"Happy 4th of July! Immediately stop your unconstitutional spying on the world's internet users -- The People."

They say wiretap! We say fight back! #4th#Restorethe4th#solidarity#July4th#NYC#Snowden#RTFNYCpic.twitter.com/QbD8MmR5jU"

— Occupy Wall Street (@OccupyWallStNYC) July 4, 2013
18:18 GMT: Twitter users in San Francisco say the crowd is building, as the West Coast prepares to take part in the nationwide protests.
Dear NSA: We're throwing you a "4th" of July/Amendment Party. What you are doing is criminal. JV #ows#ohb... http://t.co/Y17y7E0EV2

— OccupyHarrisonburg (@OccupyHburg) July 4, 2013
17:58 GMT:"It's not too late, though it is getting late. And, unlike a lot of countries, we have a means of affecting change without violence," a campaign supporter posted on Restore the Fourth's Facebook page.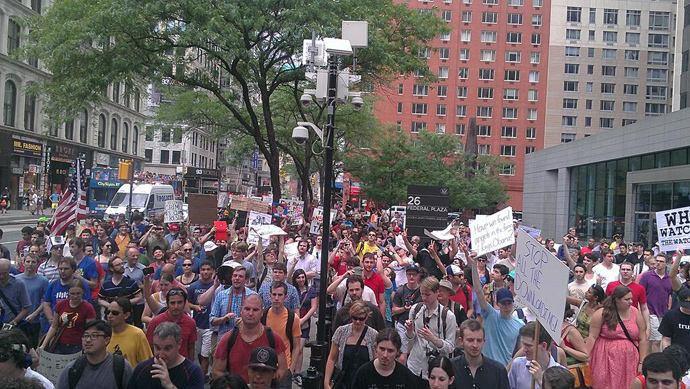 17:55 GMT: Supporters of the campaign are using Twitter to call on others to make a change and speak out against the NSA surveillance programs. 

Huge turnout for #restorethe4th rally in NYC pic.twitter.com/a1mK6nNkq5

— marina portnaya (@portnayanyc) July 4, 2013
17:51 GMT:"We will not forsake our rights for the sake of national security!" Thomas Drake said at the Washington, D.C. rally.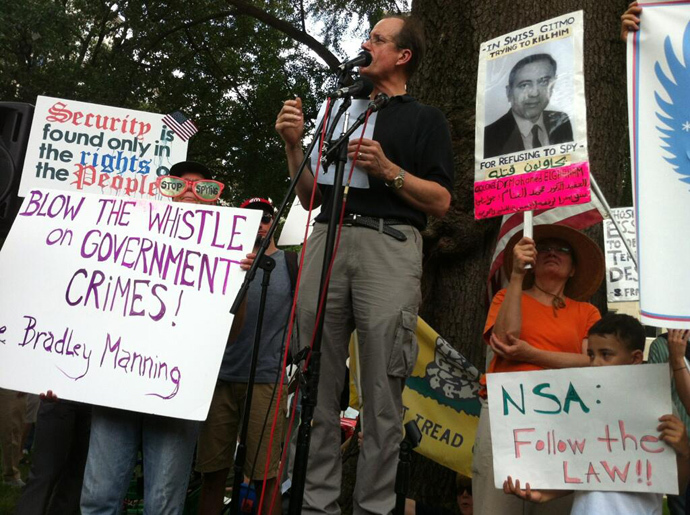 17:42 GMT:"Why is it that other countries stand up for their rights, and we sit and do nothing until it's too late?" a Facebook user posted on Restore the Fourth's Facebook page. 
17:40 GMT: A live stream of the Chicago protest can be found here. 
Chicago chants 'NSA is not okay!' rallying against #NSA spying pic.twitter.com/UqBtzhrJ22http://t.co/xYoQr6AJyU#RestoreThe4th

— RT (@RT_com) July 4, 2013
17:36 GMT: Former NSA executive and whistleblower Thomas Drake is preparing to speak at the Washington, D.C. rally. Participants of the protest are tweeting that they are "excited" to hear him speak. 

best protest sign at #RestoreThe4th rally in DC, asking for NSA forgiveness: pic.twitter.com/r3iXL3hvSq

— AdamThierer (@AdamThierer) July 4, 2013
17:21 GMT: The NSA posted a statement on its website on Wednesday, saying that it did not object to lawful, peaceful protests.

"The Fourth of July reminds us as Americans of the freedoms and rights all citizens of our country are guaranteed by our Constitution. Among those is freedom of speech, often exercised in protests of various kinds," the statement read. 
A protest organizer responded to the statement on Restore the Fourth's Facebook page:
"Rt4 (Restore the Fourth) does not object to any lawful, peaceful press releases. And we sincerely appreciate your official endorsement of the First Amendment. If you could work on the Fourth next though that would be even better," the response read.

17:14 GMT: Political activist and small government advocate Carla Howell is speaking at the Washington, D.C. rally. 
"There are no abuses of the Patriot Act, the Patriot Act is an abuse" -- Carla Howell at #RestoreThe4th demonstration in NYC #NSA

— Matt Sterling (@MSterling27) July 4, 2013
17:03 GMT: A rally march is underway in Philadelphia and Chicago.

"2 4 6 8, THIS IS WORSE THAN WATER GATE. 3 5 7 9, LET US BE SECURE ONLINE" #restorethe4th #restorethefourthpic.twitter.com/M0e1dG8kCs

— Nicky Ocean ⚓ (@SeaNick_) July 4, 2013
More than a hundred assemble. Half hour b4 #restorethe4th protest begins in NYC #RT4pic.twitter.com/y50aoG4Ucn

— TimKarr (@TimKarr) July 4, 2013
16:45 GMT: New Yorkers are not happy with James Clapper's apology for lying to congress about the NSA's spying programs, Portnaya reports.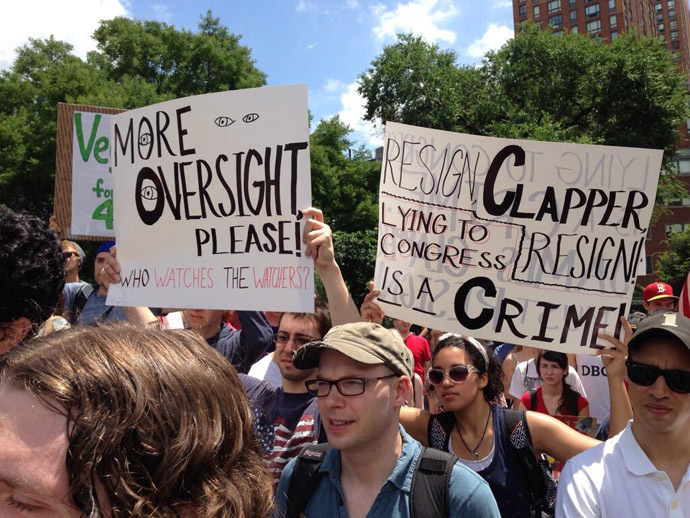 16:27 GMT:"Many former Obama supporters/donors at NYC #restorethe4th rally voicing disappointment w/ Pres who promised changed," RT's Marina Portnaya tweeted from New York.

Hundreds taking to the streets of NYC to protest NSA spy programs. #prism#restorethe4thpic.twitter.com/kqaTjVXkxX

— marina portnaya (@portnayanyc) July 4, 2013
Pro 4th Amendment-Pirate-Flashmob in front of US Consulate, Munich. #PRISM#SNOWDEN#RestoreThe4th Happy 4th of July! pic.twitter.com/7RflvmFo7a

— nottinhill (@nottinhill) July 4, 2013
We just hit 1776 followers, how appropriate! It's #4thofjuly so fight for what you're celebrating and #restorethe4th. http://t.co/o0CDqPfQKA

— Restore The 4th! (@Restore_the4th) July 4, 2013
16:04 GMT: Hundreds are rallying in support of the campaign on Twitter, citing the Fourth Amendment. 
...shall not be violated, and no warrants shall issue, but upon probable cause, supported by oath or affirmation... #restorethe4th

— Liberty Peace Love (@LuvLibertyPeace) July 4, 2013
15:00 GMT: Crowds of sign-carrying protesters have gathered in front of Boston's Old State House and the North Carolina State Capitol.

@YourAnonNews#restorethe4th at Boston's Old State House pic.twitter.com/WUyYn4EeVK

— Kim (@kdwhite22) July 4, 2013


13:24 GMT: In an article published by the Huffington Post, Co-founder of Fight for the Future Tiffiniy Cheng writes about the "dirty details" that keep piling up from the US government, and encouraged citizens to fight for their Fourth Amendment rights.

"Data is power. The government has stolen and can now analyze billions of data to know everything about you -- they're painting a picture of what you do, what you buy, who you call, where you go. This isn't just about the pizza delivery you called for. It's not just harmless meta data, as some characterize it. Government agents can use this info to infer whether you have an illness or an addiction, eye your money troubles, or gather what your religious affiliations and political activities are. They can investigate anyone for exercising their First Amendment right, and target people based on the books they read and the websites they visit," Cheng wrote. 
Good morning #NYC and all fellow liberty lovers. Join us TODAY at noon, Union Square as we rally to #RestoreThe4th . Let's get it.

— RestoreThe4thNYC (@RestoreThe4thNY) July 4, 2013
13:10 GMT: Protests are set to kick off across the US, Canada, Germany, and the UK. Information on the 103 cities taking part in the demonstrations can be found here.

12:56 GMT: Senator Rand Paul has addressed the Restore the Fourth movement in an online video.

"I think the right to privacy is one of the new fights of this century. The Supreme Court is going to have to look at this. I will continue to try to lead the fight. I complement all the other privacy groups that are involved and I'm supportive of their efforts to challenge this. We hope to get this to the Supreme Court and let people know that really, with the internet, there is expanded expectation of privacy," Paul said in the video.
12:34 GMT: 546,803 people have signed a petition written by Stopwatching.us, demanding full disclosure of the NSA surveillance programs.
"The revelations about the National Security Agency's surveillance apparatus, if true, represent a stunning abuse of our basic rights. We demand the US Congress reveal the full extend of the NSA's spying programs," the website reads.

from US friends, today massive demo against unconstitutional spying "DearNSA - Happy Fourth! #restorethe4th#prismpic.twitter.com/3cuQZiRWiA"

— EU Watch (@EUWatchers) July 4, 2013
12:29 GMT: The Social Media Coordinator and Interim Press Coordinator for Restore the Fourth took questions from the public on reddit.com ahead of the planned protest.

The best (maybe the only) way to celebrate the 4th of July these days, is through protest! Noon TODAY: March from... http://t.co/Y4Yl95UvQy

— Occupy Wall Street (@OccupyWallSt) July 4, 2013

You can share this story on social media: