WATCH: Viral video claims to show 'Trump's border wall' COLLAPSE under the wrath of Hurricane Hanna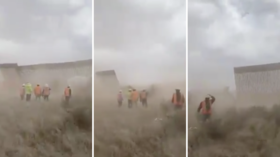 A section of the US-Mexico border wall in Texas allegedly failed to withstand the power of nature, according to a viral video. While its authenticity has been questioned, the clip sent President Trump's critics into overdrive.
A viral video purportedly showing a partial collapse of the border fence between the United States and Mexico was widely shared online on Sunday. While it was not immediately clear where it was recorded and which segment of the fence was affected, several local journalists and media reports indicated the incident happened somewhere between Texas and the northeastern Mexican state of Tamaulipas as the storm battered the region.
The original source of the video is unclear. One of the early posts by Yadith Valdez, featuring a 39-second clip, got thousands of shares and ironic responses, but was deleted without explanation. However, many other users, including verified journalists, shared longer 44- and 59-second versions.
Many questions were raised about the authenticity of the video, with some noting that the terrain did not look like the lower Rio Grande Valley, speculating that the incident might have happened elsewhere or on a different date. A spokesman for Customs and Border Protection, Roderick Kise, told the Caller Times that he had doubts the footage was from South Texas, but was checking with authorities in Washington.
Nevertheless, the US president's numerous critics rejoiced, sharing the clip and mocking the alleged incident as divine intervention and an omen of an imminent collapse of the Trump administration.
Earlier this month, a privately built section of the border wall in South Texas was criticized for being located too close to the Rio Grande river and already showing signs of erosion just months after going up.
Trump at the time distanced himself from that particular private initiative, even though his administration reportedly awarded the builder a $1.7 billion contract to construct more walls.
"I disagreed with doing this very small (tiny) section of wall, in a tricky area, by a private group which raised money by ads… Should have been built like rest of Wall, 500 plus miles," Trump tweeted back on July 13.
It was only done to make me look bad, and perhsps (sic) it now doesn't even work.
Also on rt.com
'Make New Mexico pay for it!' Twitter baffled after Trump vows to build wall in Colorado
Like this story? Share it with a friend!
You can share this story on social media: