One person killed in shooting during protest in Austin, Texas (VIDEO)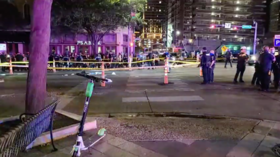 One man was killed after gunfire erupted during a protest in downtown Austin, Texas. A chilling video from the scene shows people screaming and running for cover.
The victim, an adult male, was taken to hospital with "critical, life-threatening injuries" late on Saturday evening, where he died shortly afterwards. A police spokeswoman said he was attending a 'Black Lives Matter' protest in the city, and may have approached a passing car while brandishing a rifle.
#BREAKING: Police are on scene of a shooting that occured during a protest in Austin, TX. The area is blocked off and police are asking everyone to avoid the area. **Video may be sensitive to some.** pic.twitter.com/BDsizx4OkT

— Brennan Prill ⚡︎ (@WxBrenn) July 26, 2020
The driver, who shot the victim from inside his vehicle, was taken into custody by police.
Hiram Gilberto, an eyewitness who saw the incident unfold and captured it on video from a mere three meters away, said the shooter was inside a car and the injured person was a protester.
"A protestor was shot with LIVE ROUNDS today. I was no more [than] ten feet from the shooter and running towards his car. It was TOO CLOSE. Currently on my way to give a witness statement to APD. KEEP THOSE AFFECTED IN YOUR THOUGHTS," he wrote in a Facebook post.
Think your friends would be interested? Share this story!