Tsunami warning issued for several hours after magnitude 7.8 earthquake hit offshore Alaska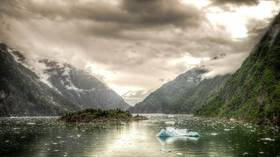 Authorities in Alaska have lifted a tsunami warning following a 7.8 magnitude earthquake which struck late Tuesday at a depth of 10km, 100km off the coast. There were no reports of damage or injuries.
The quake struck at approximately 06:12:42 (UTC). The US Tsunami Warning System raised the alarm over 'hazardous waves' due to strike coastal communities from Sand Point to Kodiak and Cold Bay.
In eyewitness video from the scene, the haunting tsunami warning sirens could be heard wailing in the distance as bemused residents were roused from their sleep.
"Bed and curtains were going. Felt like a very long quake!" an eyewitness in Homer, 656km northeast of the epicenter of the quake, said.
"Felt very dizzy," wrote another in Vancouver.
Residents were advised to evacuate to higher ground or move to the upper floors of multi-story buildings as a precaution, and warned to avoid the coast and shoreline until advised by officials that it is safe to do so.
Footage uploaded to Twitter shows bleary-eyed residents taking shelter on high ground before the tsunami alert was finally lifted a short time later.
Think your friends would be interested? Share this story!