CNN's Acosta mangles White House quote on science & reopening schools, corrects himself ONLY after misleading tweet goes viral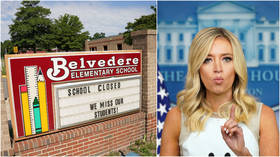 White House Press Secretary Kayleigh McEnany was lambasted online after relaying the president's support for reopening schools this fall, but a quote singled out by critics was deceptively stripped of all context.
The row was sparked during a White House presser on Thursday, after a reporter asked McEnany about how parents might approach the upcoming academic year, as a growing number of school districts around the country move to full-time virtual learning amid the coronavirus pandemic.
"The president has said unmistakably that he wants schools to open," McEnany replied. "I was just in the Oval talking to him about that, and when he says open, he means open in full, kids being able to attend each and every day at their school. The science should not stand in the way."
The science is on our side here. We encourage localities and states to just simply follow the science.
Though McEnany went on to cite Scott Atlas, the former head of Stanford University's neuroradiology department, as well as a recent study by the Journal of the American Medical Association (JAMA), her first line about "science" promptly went viral. A Twitter pile-on soon followed, with detractors and a number of mainstream media outlets presenting the quote only in part, distorting its meaning to suggest the administration opposes 'science' altogether.
The press secretary herself shot back that the incident was a "case study in media bias," offering more of her own quotes from Thursday's press conference and arguing she had made the "opposite point" from the one attributed to her. A number of other skeptics also came to McEnany's defense, including CNN's Jake Tapper, who urged critics to "be fair."
Tapper's colleague at CNN, Jim Acosta – who helped to kick off the controversy online – later weighed in to add more to the quote, acknowledging that McEnany had said "the science is on our side here."
By that point, however, his original post with the singled-out quote had racked up tens of thousands of likes and shares, vastly outperforming the minor correction. Some netizens found the gesture unconvincing, comparing the incident to previous media-generated 'scandals,' in which a misleading report goes viral but a later correction is largely ignored.
Like this story? Share it with a friend!
You can share this story on social media: