'Disgusting & sick!' YouTuber Shane Dawson gets canceled for 'masturbation joke' with poster of Will Smith's 11yo daughter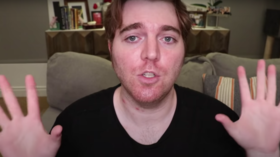 Just hours after addressing his past blackface and racial slur sins, YouTuber Shane Dawson found himself in deeper trouble after a video went viral showing him pretending to masturbate to a poster of 11yo Willow Smith.
The scandalous video shows Dawson, a YouTuber with over 20 million subscribers, standing in front of an old Disney poster of young Willow, huffing and puffing, apparently pretending to masturbate while saying, "whip your hair back and forth," in reference to the girl's song.
It was not immediately clear when exactly the video was recorded or who dug it up and shared it, but the clip triggered an immense scandal online, propelling Dawson into the top Twitter trends and prompting shocked response from members of the Smith family.
SHANE DAWSON I AM DISGUSTED BY YOU. YOU SEXUALIZING AN 11 YEAR OLD GIRL WHO HAPPENS TO BE MY SISTER!!!!!! IS THE FURTHEST THING FROM FUNNY AND NOT OKAY IN THE SLIGHTEST BIT.

— Jaden (@jaden) June 27, 2020
"Shane Dawson I am disgusted by you. You sexualizing an 11 year old girl who happens to be my sister!!!!!!" her outraged older brother Jaden tweeted in all caps.
if jada and jaden smith the MOTHER and BROTHER of willow smith herself, do not accept shane dawson's apology, NONE of you guys should even try justifying his actions or saying he apologized. pic.twitter.com/t9T9juvAzt

— paul rudd is baby (@sebastiansoulja) June 27, 2020
Their mother, Jada Pinkett Smith, said: "To Shane Dawson … I'm done with the excuses."
Shouldn't be lusting over no child at all . It's sick . It's sick & its fucking sick . You grown ass men are ridiculous . So I'm gone say this . Shane Dawson it was fun making videos with you but I choose to unfollow you & go my separate way .You have some growing to do like FR

— CupcakKe (@CupcakKe_rapper) June 27, 2020
The YouTuber has yet to respond to the new scandal, which comes less than a day after he addressed his previous controversies in an apology video that many found unconvincing and insincere.
Earlier this week, another YouTuber with over 20 million subscribers rushed to self-cancel – announcing a possibly permanent hiatus from her channel – after facing accusations of "racism" due to her content from years ago. In her case, many considered her apology to be much more "sincere," while the "sins" were far less grave.
Also on rt.com
Cancel culture at it again: YouTuber Jenna Marbles with 20mn subscribers preventively quits platform over past 'racist content'
Think your friends would be interested? Share this story!
You can share this story on social media: