#RIPTacoBell: Critics demand fast food chain's cancellation over video showing employee fired for supporting BLM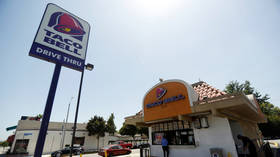 Taco Bell is the latest company facing the wrath of activists online, following a viral video allegedly showing a manager firing an employee for showing support for the Black Lives Matter movement.
"You can't bring politics into the building," a woman in the video can be heard telling a man wearing a mask with the Black Lives Matter symbol.
The man, identified as 29-year-old Denzel Skinner, refuses to take his mask off several times. The footage has earned plenty of calls for the fast food chain to join the list of canceled targets, amid the global wave of protests over racial inequality and police brutality. #RIPTacoBell began trending on Twitter on Thursday after musician Elijah Daniel shared the video.
Some showed their support for Skinner by sharing do-it-yourself recipes for Taco Bell's more popular items, in an effort to encourage people to boycott the chain.
Skinner said that he was only told he had to wear a mask to work to prevent the spread of Covid-19 and was not given any requirements as to the design of the facewear. Taco Bell said in a statement they are "disappointed" by the incident and are investigating the matter to find out "what happened." They also stressed their commitment to "fighting racial injustice and are hosting open forums to give restaurant teams an opportunity to discuss racism in America."
Like this story? Share it with a friend!
You can share this story on social media: